Grow Your Sales
More and more e-commerce businesses are turning to Genius Monkey to grow their online sales. Why? It's all about results and Genius Monkey delivers.
Spend More Time on What Matters
Your campaign will be fully managed by our team using our proprietary Meta DSP Platform. In turn you will have more time to focus on your website optimization, creative and sales funnel.
Depend on a Brand You Can Trust
As a pioneer of the programmatic industry since 2009, your campaigns will leverage the best data partners, ad networks, and will be validated by industry-leading attribution.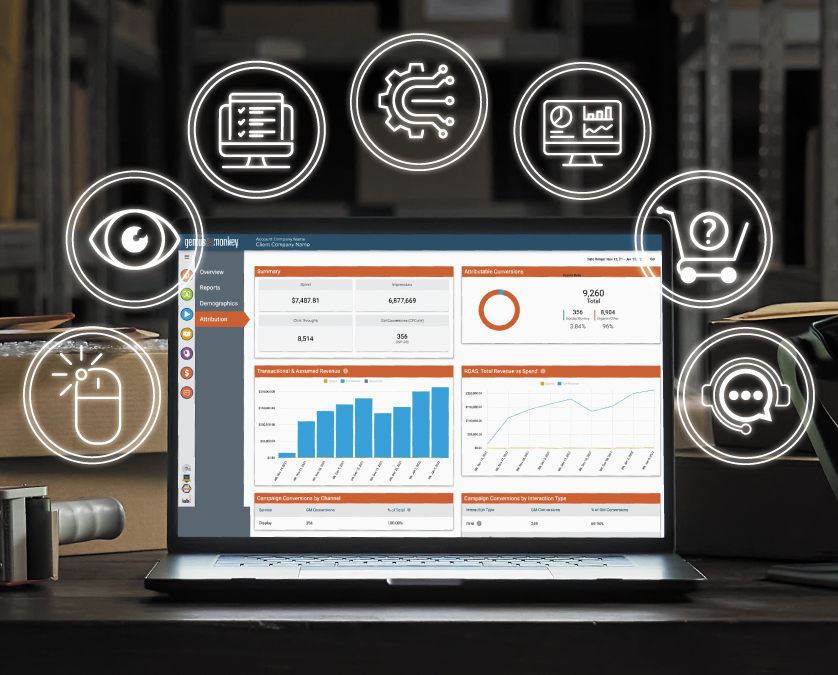 E-COMMERCE SUCCESS - WHAT YOU GET:
ROAS REPORTING:
SKU/ID specific reporting
Both click & impression level
Conversion/sales cycle reports
Path to conversion reports
INTEGRATION WITH:
Shopify
Ticketmaster
Eventbrite
Telium
And much more…
STRATEGY SUPPORT:
Retargeting strategy and implementation
Cart abandonment strategy
Full support for implementation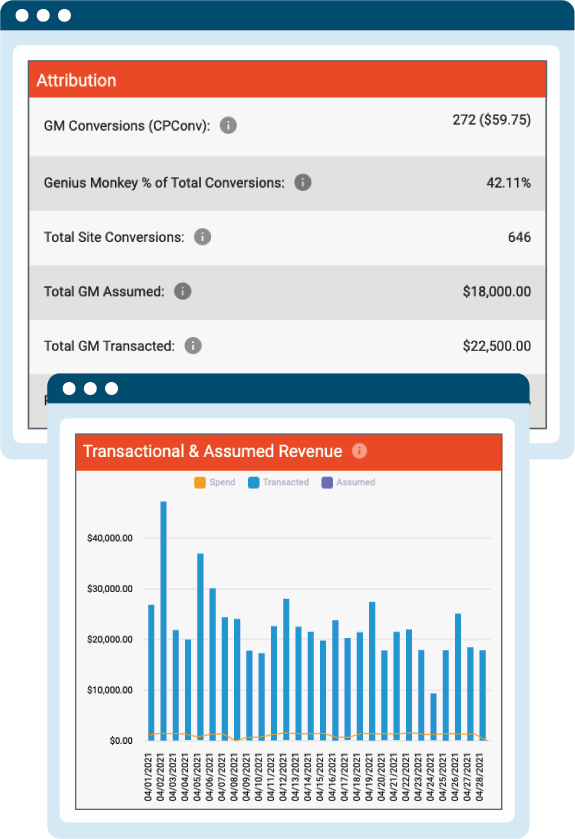 How We Work For E-Commerce Businesses
Genius Monkey's E-Commerce product tracks revenue related to your ads so that you, the advertiser, can see the exact items being purchased, the confirmation or sale ID number, time stamp and even exact IP address of every single transaction. Genius Monkey is now able to tie these sales back to a user seeing a programmatic ad, something digital marketing companies have historically not been able to tie together. This data allows you to have a better picture of the impact your digital marketing campaigns are actually having, allowing you to make more data driven decisions to grow your bottom line.
Genius Monkey's proprietary ability to track every single sale is mixed with soft conversion data points such as page views, cart add's, and checkout page visits so that you can see your ecommerce funnel in its entirety. This data allows you to adjust certain parts of the funnel that see increased drop-out, further optimizing your sales process and in turn driving even more sales.
More Features We Offer
Dedicated Account Manager
24/7 Dashboard access & Custom reports and insights
Weekly meetings to evaluate account & campaign status and health
Expanded/Custom targeting
Partner with Us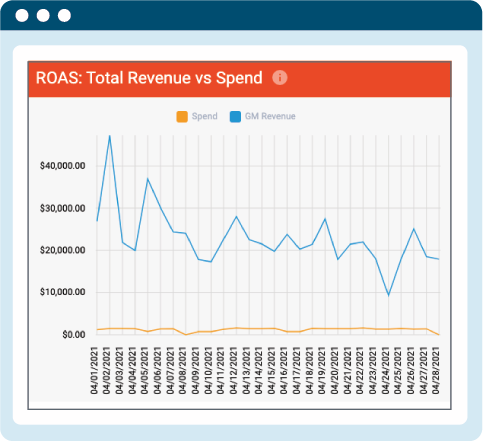 RETARGETING FOR THE WIN
Genius Monkey's E-Commerce solution can also create retargeting campaigns for each group of users dropping off in the sales funnel (cart abandonment retargeting, etc.) retargeting your competitors' traffic and even their email lists.
SALES VISIBILITY – DATA YOU CAN TRUST
See results in real time including CPConv, and ROAS. With Genius Monkey's E-Commerce Attribution you can see every single sales transaction that occurred after someone saw an ad, view through attribution, and/or after someone clicked on a Genius Monkey ad, click- through attribution. You can track in real time the total revenue driven from Genius Monkey marketing vs. the total spend to get an accurate calculation of return on ad spend. Unlike other digital marketing vendors where you are left wondering what sales were actually driven by the advertising, Genius Monkey can report back exact order IDs, confirmation numbers, and or many other metrics that you want to track.
AVERAGE E-COMMERCE COST AND CONVERSION METRICS
$0.77
Average Display
Cost Per Click
$3.15
Average Display
Cost Per Conversion
$0.89
Average Video
Cost Per Click
$4.47
Average Video
Cost Per Conversion
Average Days From Initial Brand Engagement To Conversion
Takeaways From E-Commerce Campaigns
Along with event sales and travel, e-commerce-based campaigns require the least amount of touchpoints to convert of all other verticals. Why? Immediate gratification.
If you know a majority of your users are going to make a decision in less than 5 touchpoints, make sure you–and not your competitor–make the strongest first impression with the best offer. Pull at those heart strings and make them want your product or service with an offer they can't refuse. In other words, the creative you're using matters!
Some Of The Brands Genius Monkey Has Had The Fortune To Help
Let's Talk Cost
Why should you choose Genius Monkey you ask? We don't force our clients into contracts. Instead, we put our money where our mouth is and let our performance be the factor that binds us. We also encourage you to split-test against your current vendor so we can prove the Genius Monkey difference!
No Contracts
No set up or management fees
Don't pay for impressions. Only pay when your audience engages with your ad.
High-performance programmatic pay-per-engagement display, video, audio, and OTT campaigns with average cost per clicks as low as $0.47
Effective CPM of $2-$3 (as compared to $5-$15 CPM)
Talk to a Rep
Let's get your conversion rates climbing!