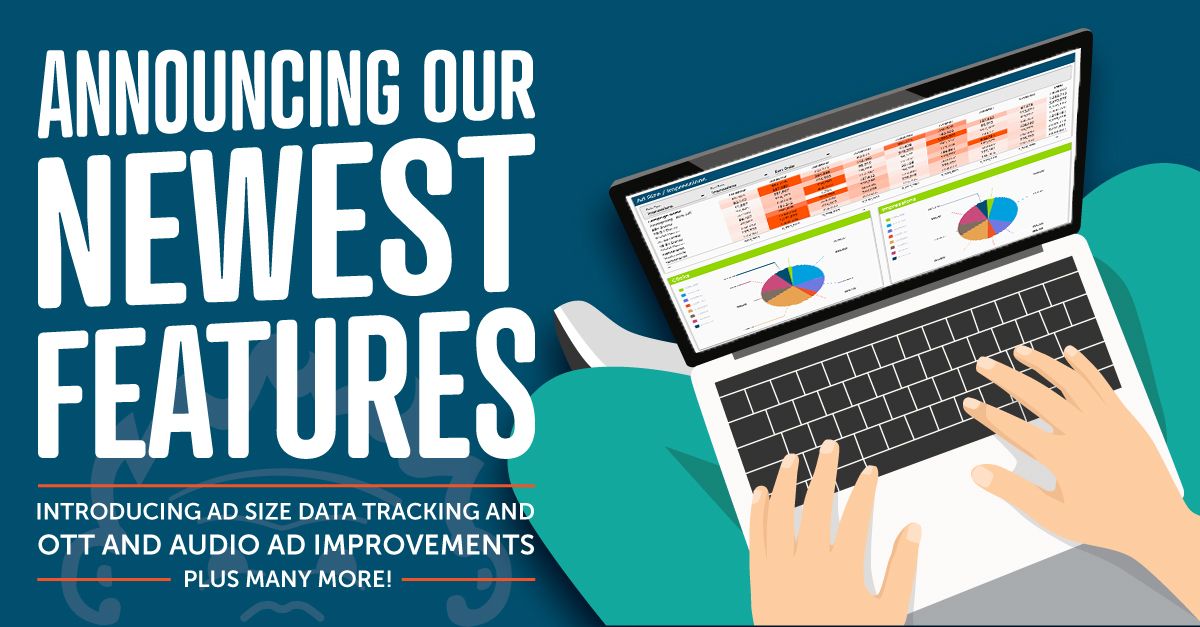 We at Genius Monkey believe that constant, steady improvement is key to success not only in your advertising endeavors, but in the tools we use to make it possible. We're excited and eager to share some of the latest additions and improvements we've made to the Genius Monkey platform.
Ad Size Data Tracking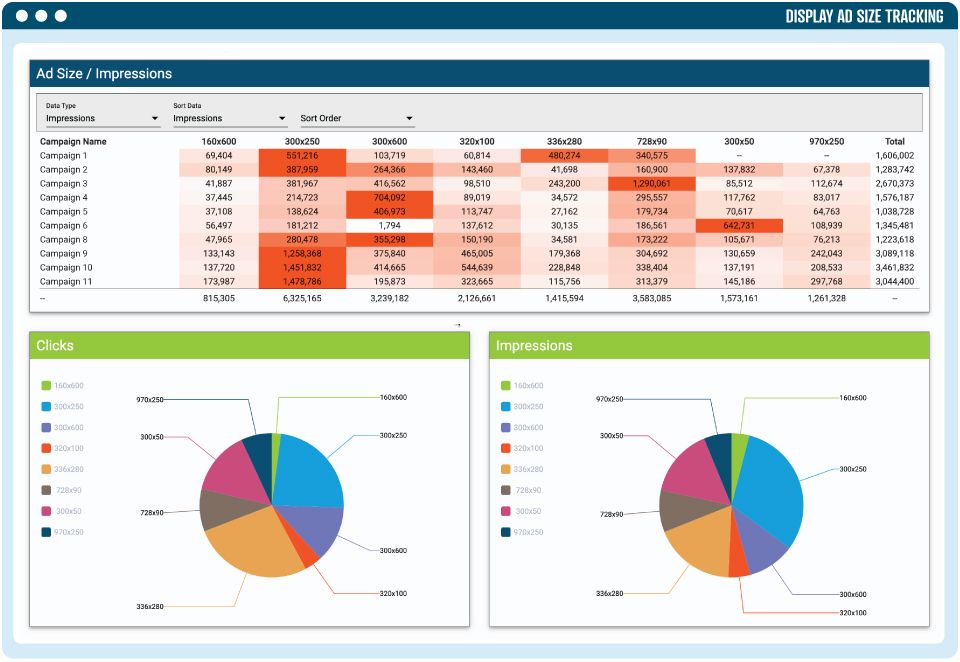 A new ad size reporting display in the dashboard allows you to more quickly see which of your display ad sizes served the most impressions and received the most clicks at a glance, you can have speedy, valuable insights into exactly which ad dimensions are performing the best. You can take these learnings of which sizes and dimensions your audience is responding to best into your other marketing mediums: tweak your print ads, landing pages, website, and more based on what works.
OTT and Audio Improvements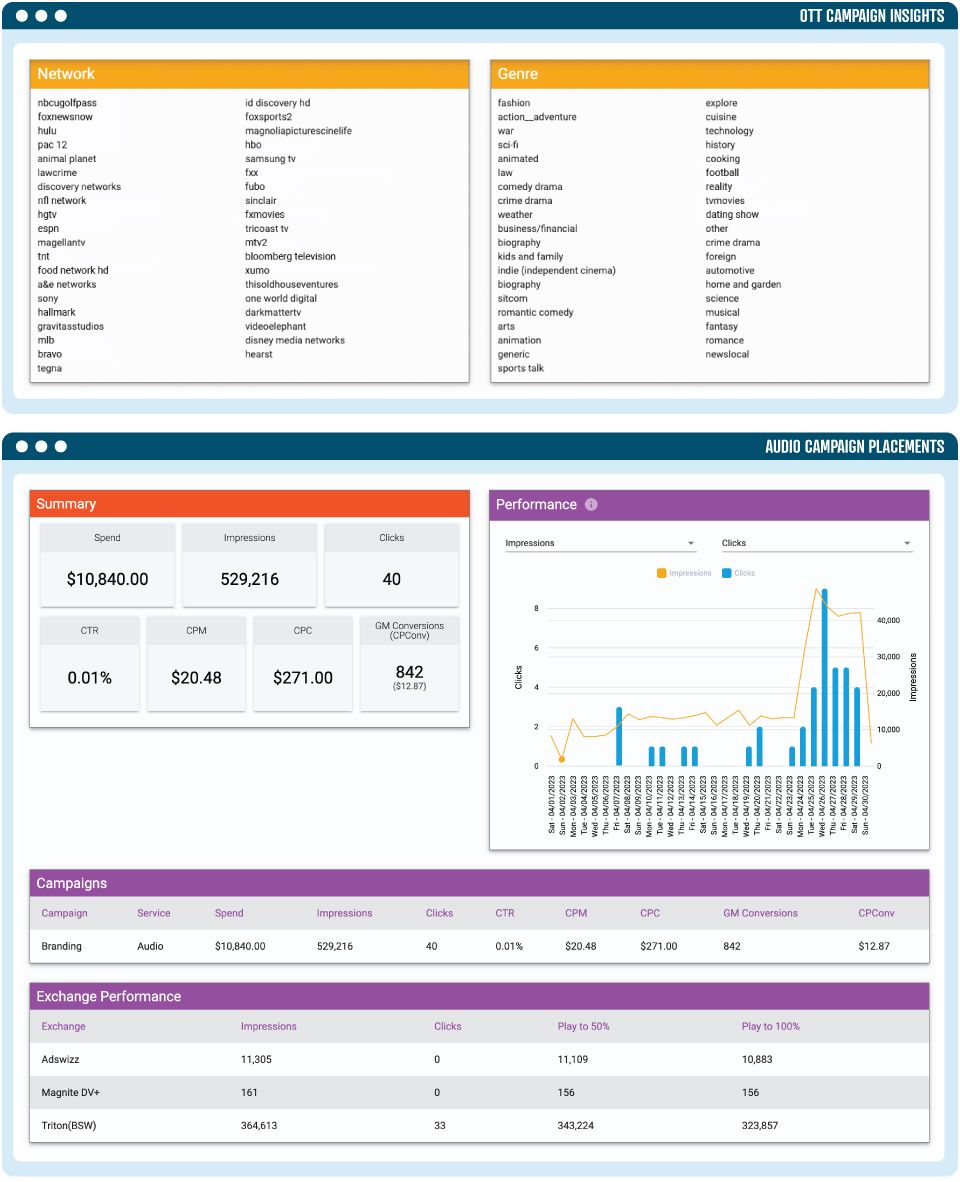 People are more online and connected than ever; 78% of households in the United States are subscribed to at least one streaming service, and nearly 525 million people are getting their music from platforms that offer ads. These mediums grew substantially over the last two years, and we've got some new updates to match.
Throughout the last two quarters, Genius Monkey has been working diligently to add in more networks, deals and placements into its already robust connected TV and audio advertising offerings. With a media-agnostic approach, these additional deals and networks allow your OTT and audio campaigns to follow the advertiser's audience wherever they might be watching or listening.
In addition to improved performance through these new placements, Genius Monkey now has additional reporting insights in the live dashboard for Audio and OTT / CTV campaigns. Insights into placements by way of network, segment, and in some instances level data are now live in their respective dashboard tabs. All of this is in addition to the already robust attribution reporting exclusive to the Genius Monkey platform, an unparalleled programmatic solution in the industry. For more information, reach out to your Genius Monkey representative to walk through these new metrics.
Invoice Retrieval
This is a smaller upgrade, but a helpful one nonetheless. You can now export your invoice as a PDF right from the client dashboard. This gives your accounting team easier access to a copy without needing to request invoices and receipts for payments, streamlining your reconciliation process.
Additional Reporting Aggregators

At Genius Monkey, we know that we are just one piece in the puzzle of our advertiser's marketing strategy. Nobody wants to visit multiple dashboards for each vendor they are running with, therefore many advertisers use reporting aggregators to pull all sources into one dashboard. For this reason we are continually adding support for these aggregators. Some new ones in Q2 are: Funnel.IO, Tableau, Digits, Datorama, and Slate. These new partners are in addition to existing integrations with the likes of: TapClicks, Ninja Cat, Alight Analytics, Salesforce, Pardot, Grow, Google Sheets, Looker Studio, DOMO, and more.
Additional E-Commerce ROAS Tracking Partners

It's difficult to budget and strategize a marketing campaign when you have no way to tell if it's working! Tracking success is essential, and that's why Genius Monkey has added additional E-commerce system partners that "plug and play" with the Genius Monkey revenue passing pixel. This way, you can see the exact return on ad spend through these new purchase platforms, which now include: WooCommerce, Tealium, Slate, Datorama, Tixr, See Tickets, EnMotive, Ticketmaster, Eventbrite, Google Tag Manager, Shopify, Pardot, and more.
Reworks to Data Harvesters
Data is only as useful as it is interpretable, and it can take some time for data to be collected and normalized into a usable format. That's still true, but we've optimized the system across more than 20 networks with a complete overhaul to our data harvesters. Now the Genius Monkey aggregators are able to collect and normalize data significantly faster, allowing your dashboard data to be even more up to date.
Genius Monkey is committed to creating the best experience for our clients and partners by continually investing in the tech that makes it possible. If you have any input or requests for future product releases, please do not hesitate to reach out!