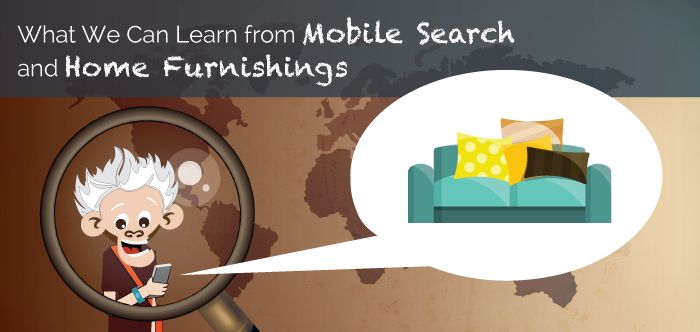 "Searches on smartphones
for 'Furniture near me' has
increased year over year by 85%."
Furniture shopping has come a long way. No longer is it only an in-store activity, as smartphone and mobile use has become the norm. Nearly half (47%) of furniture shoppers have indicated that they are increasing their online purchases via mobile, and even if they go to the brick and mortar store, it's most likely that it was mobile that drove them there. Searches on smartphones for "Furniture near me" has increased year over year by 85%.
It used to be that when someone shopped for home furnishings, they wanted to do it live and in person … inside the store. Today's shoppers tend to rely on their smartphones to research products before making a decision, or even visiting the physical locations. What a huge marketing opportunity for businesses; to convert browsers into purchasers via a solid programmatic digital platform, and being there in the critical moments!
Whatever category a merchant falls into, it's imperative to be there in the critical shopping micro-moments to appeal to those searching. But it's important to note that the timing of these micro-moments vary, depending on the retail category.
Mobile search is relevant and pertinent for any business with an online presence. In this case, the furniture industry is used as an example, but the birds and the bees of mobile search applies to all industries who advertise online.
Let's take a look at the consumer's journey as seen by those involved in the retail sale of home furnishings, and examine the four principal micro-moments in which all furniture brand marketers must be present to be successful: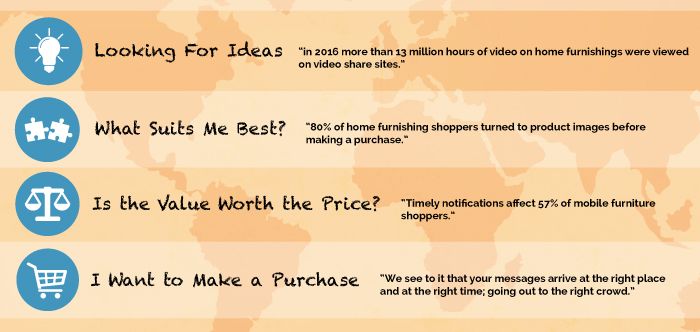 Looking for Ideas
Oft times the furniture shopper has a good idea of the style they want to find, yet they haven't come to any conclusions on what brand or what retailer they want to deal with. They just want to know that what they are looking for really exists, and how it would look in their particular environment.
This is also the phase in which consumers turn to video as well. It helps them visualize what the furniture really looks like. Case in point, in 2016 more than 13 million hours of video on home furnishings were viewed on video share sites like YouTube.
What Suits Me the Best?
This stage of the shopping journey is where shoppers tend to gravitate towards particular styles, but still remain undecided regarding just what brand or retailer they will patronize. They want to find out what is available, and how it might look in their home.
Those who are serious about making a purchase rely on searching (especially images) to arrive at a conclusion as to what is best for their needs. In fact, mobile searches for topics such as "best furniture" and "furniture reviews" have increased beyond 50% year over year. In addition, 80% of home furnishing shoppers turned to product images before making a purchase.
Is the Value Worth the Price?
When it boils down to it, the real point of the journey is to find the best value for the dollar. In fact, it's surprising how much time consumers will spend searching in order to find the biggest bang for their buck! Over half of these home furnishing shoppers have indicated that their decision was affected by discounts or special promotions offered by the retailer in a timely fashion.
The manner in which the incentives are offered matter greatly. When retailers acknowledge that their mobile-toting potential customers are nearby, and send them special offers, coupons or in-store bargains, it is well-received. In fact, 57% of mobile users have expressed their admiration and appreciation for that kind of marketing.
I Want to Make the Purchase
In order to be there in the consumers' critical micro-moments, a marketer must have the ability to recognize their audience and track their shopping behaviors, no matter what goods or services they are touting. In doing so, they will be there when the decision is made to go through with the transaction, and where they will make the purchase.
"… we see to it that your messages arrive at the right place and at the right time; going out to the right crowd."
This has been proven in the home furnishings industry, but applies to all businesses. You must be there when it counts, and that is what we do at Genius Monkey; we see to it that your messages arrive at the right place and at the right time; going out to the right crowd. That's the beauty of a reliable digital programmatic platform.