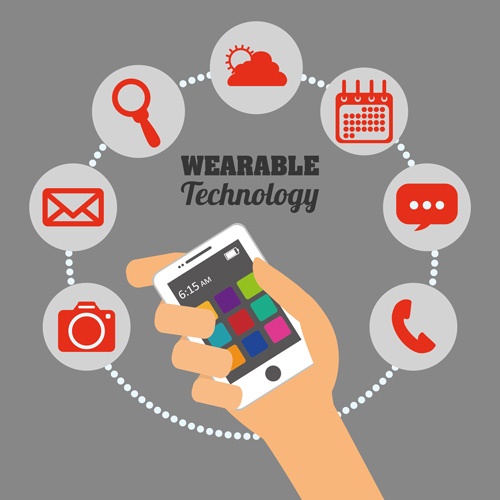 Wearable technology may be fairly new to the marketplace, but the idea certainly is not. Those of you who are old enough to remember the Dick Tracy television series, probably remember his special wristwatch. This futuristic piece of equipment allowed headquarters to communicate with him, offering information and instructions on his next assignment. As is usually the case, the future has caught up with the comics, and has even surpassed them!
It's undeniable that "wearables" (wearable technology) has become a buzzword in the world of digital marketing. The new technology is becoming so popular that advertisers can even run programmatic ads on wearable devices, creating yet another screen that consumers will be monitoring.
In the third quarter of 2014, global shipments of wearables reached 12.7 million units, up 40 percent from the same period of the previous year. It's speculated by analysts that as smartwatches become more widely accepted, the numbers will increase to 75 million shipments in 2015. Some experts predict that wearable tech will be bigger than the smartphone movement, and that advertisers will be the ones to propel the growth. These same folks believe that the opportunities for programmatic marketing are great with this movement, due to low entry hurdles.
Apple recently began to distribute their long-awaited smart watch. It's estimated that at least one million units shipped, and that will only cover the first round of demand. In addition, Android wearable devices are also emerging, and the Pebble Time watch raised a record-breaking $20.3 million on the Kickstarter Campaign. If that's an indication of the public's anxiety to get a smart watch, wearable technology is set to be very popular.
Today's smart watches are designed to allow you to view messages and notifications, interact with applications from your smart phone, take pictures and videos, and even allow you to make and receive calls. They wirelessly bring essential functions from your smartphone to your wrist. One of the greatest gifts that these smart watches bring to their owners is data.
These smart watches are a lot of things to a lot of people, but a savvy marketer realizes that they provide one more screen upon which to connect with targeted consumers, making them the ideal programmatic tool.
As an example, programmatic video uses technology combined with complex data to purchase ad inventory automatically. To display desktop video, marketers utilize the well-known technology of using browser cookies. However, it becomes a little more complex as we move into the field of programmatic mobile. The majority of web browsers incorporate the use of cookies. The inventory may be different, but the territory is quite familiar. However, most smartphone interactions occur in native applications. This type of app is an application program that is developed for use on a particular platform or device. It doesn't use data tracking cookies. Native apps collect data using the unique advertising ID. It's similar to a cookie, only it will function across any applications that use it. This data from the ad ID can be used by advertising technologies for targeting purposes.
The wearable technology devices are virtually an extension of the wearer's smart phone. It is through this smart phone that the wearable connects to the Internet, sends and receives data, and even processes some of the background. The conflict in which the digital industry finds itself, is that reach continues to be a top priority (and easier than ever, thanks to programmatic), yet simultaneously they try to deliver the most personal and pertinent experiences to their end users.
In order to be successful, wearable formats must provide a service. For instance, wearable tech can actually integrate the user's surroundings with their current behavioral patterns. If a man is walking down a street and passes a Bass Pro Shop, and his recent desktop history indicates that he's been shopping for fishing reels on their site, the smartwatch can prompt him with a sale notification, making his wearable tech a digital extension of the real world.
It's reasonable for some to believe that there is not a direct connection between smart watches and digital video advertising. Admittedly, it's hard to present an effective video on such a small screen, and who knows if there are even audio capabilities? On top of all that, do we really expect consumers to spend much time interacting with their watches? Actually, yes we do. The technology is rapidly changing to accommodate such a use of the wearable smartwatch. It's attached to your body and can monitor everything a person is doing, as well as where they are doing it. This information may help brands to be able to collect data on a level they have not ever reached before.
In the world of wearable technology software creators, there was a mandatory paradigm shift regarding the way applications have been designed. This especially holds true for video advertisers. The user interaction times must be shortened. This is because of the size of the screen, the limited space within the device and the comfort for the user. When it boils down to it, the reason these apps are developed is to get a point across to the wearer quickly. It's not all that different than mobile video advertising.
At the core of any successful programmatic marketing campaign is data. It's data on demographics to determine a targeted audience. It's data that is collected while the campaign is running to be sure that the target audience is being reached. The higher the data quality, the more marketers will be able to use it to create a successful marketing campaign. By learning and leveraging the data from wearables, the picture we can create of our audience becomes even clearer, and to the marketer, that's a real benefit!