From Freeform's 31 Nights of Halloween to Macy's Thanksgiving Day Parade (which has 50 million viewers), there is no shortage of big events to watch for this holiday season.
A 2020 study from Unruly (interviewing Americans) revealed that during the winter season:
51% planned to watch more TV
58% planned to spend more time on the Internet
34% planned to spend more time playing video games
Unruly researcher Nick Woodford added, "With more eyeballs on screens, it's never been more important for brands to get their holiday campaigns right."
Make OTT the Shining Star this Season
With more families gathered around the television and more eyes on screens, it's a great time to evaluate your marketing plans and use the experts at Genius Monkey to boost your sales strategy before the year is over.
One of Genius Monkey's clients, the Advanced Training Institute College, wanted to boost student enrollment, and we knew just how to help. After adding in OTT, they found that users who took less than 2 days to convert improved from 5.1% to 22.6%, a 17.5% improvement.
Therefore, if you aren't utilizing Connected TV programmatic marketing, it's never been a better time to start, as the next few months become prime time for viewership.
Why Wintertime Works for OTT/CTV
An article from Adweek explained why fall and winter are "the most bountiful times for viewing in America." In this article, they cited a study by Nielsen, comparing September-November viewing and December-January viewing, the numbers speak for themselves. Viewership increases by 8% in the December-January range, and there's a reason why.
Peter Katsingris, Senior VP at Nielsen, said, "Networks are airing their new and more popular content, and audiences, who might be looking for refuge from the cold weather, are more likely to watch them during this time."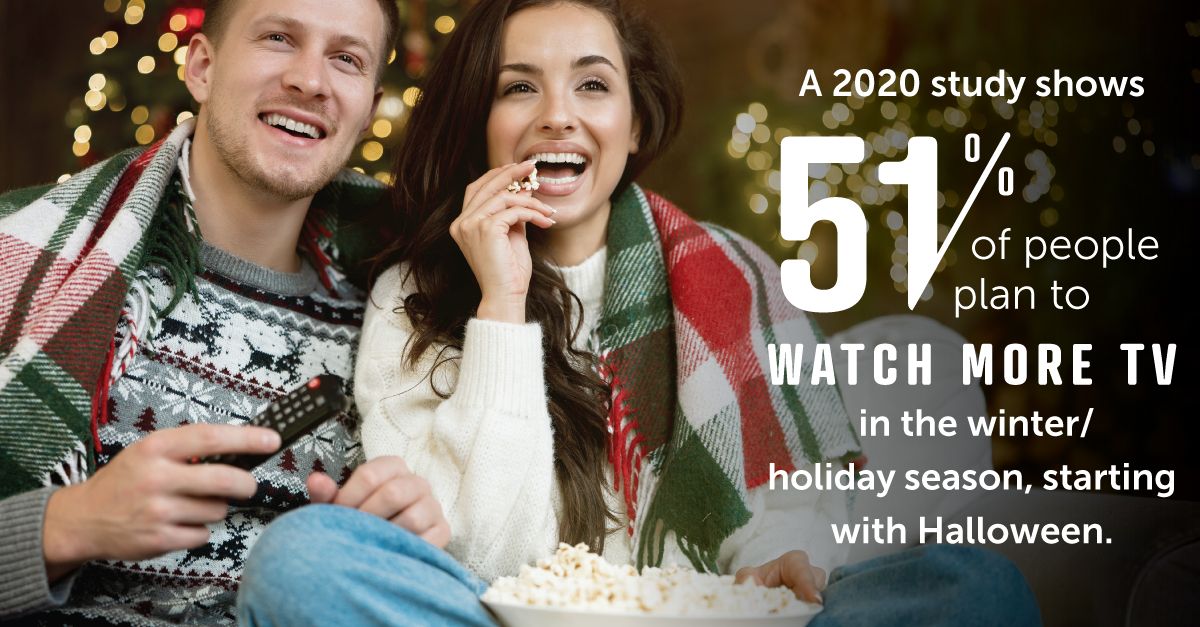 'Tis the Season to be Streaming
During the months of November and December 2018, comparing it with the rest of the year, Hulu saw a 29.4% increase in viewership. The Hallmark Channel also had high fourth-quarter ratings as the most-watched entertainment cable network among women 18+ for the seventh year in a row. Hallmark's Countdown to Christmas brings in more than 2.5 million viewers and is a holiday staple in many households.
2020 was a big year for streaming in general, as the pandemic forced many indoors and in front of screens. Subscriptions rose tremendously and continue to increase as more streaming services are offered, from Hulu and Amazon Video to newer services like Paramount Plus.
In a study by GWI, Internet users in America and the U.K. were asked about their holiday viewing habits. The study reported that viewers watch the most television in the "run-up" to December 25, with 43% of viewers watching on Christmas Eve. This included sports as well, with 40% watching athletic events—not just holiday content.
Make Your Ads Merry + Bright
This study not only focused on the digital habits during the holidays, but it also revealed the specific types of advertisements consumers wanted. When it comes to advertisements, the research found that consumers wanted ads that are festive and made them feel happy, warm, inspired, and nostalgic.
What This Means For You
Before you hit "Vacation Mode" this holiday season, remember the benefit of advertising during the holidays. The cocoa should be hot, the tree should be decorated, and the ads should be targeted and ready to go. This is a crucial time of year, both for marketers and consumers, and you want to make sure you're spending your money wisely as viewers gather around their television screens and computers.
Here are 4 valuable marketing tips you can use as the holidays draw closer:
1. Create holiday content that makes viewers feel happy
Whether it's a display ad, 15/30-second video, or banner ad, your marketing should feel welcoming and friendly. We recommend A/B testing content to determine what will best catch someone's eye.
2. Tap into those viewers by evaluating your programmatic plan and investing in OTT/CTV
If you aren't using OTT/CTV in your marketing, now is the time. The professionals at Genius Monkey can help you prepare for the holidays and new year with a fresh perspective and game plan that will increase leads, target users who are really interested, and bring you actual buyers. We're one of the original OTT/CTV experts, so we know how to take your marketing from good to genius.
3. Opt for a soft invite over a hard-sell during the holidays
Instead of knocking down the door with ads, try an emotional or heartwarming approach to your marketing during the holidays. The exception is if you have a seasonal sale or discount that you want to put in front of potential customers. But in all your seasonal marketing, be intentional, not overwhelming.
4. Don't go dark even if your business does
Often business-to-business sales and technology companies go dark in advertising during the holiday season because they think their audience is on vacation and not around to listen. However, people are listening now more than ever—just in different locations, devices and mediums. This is exactly why you should adjust your approach instead of cutting off your marketing. Genius Monkey has found that businesses that continue marketing while others go dark have a 21% higher brand-recognition lift resulting in more revenue for those that are consistent both during the holidays and especially into the new year..
Stay ahead this holiday season with specific, festive content that makes users feel inspired and interested in what you have to say. See how Genius Monkey has helped real companies like yours make huge improvements in their sales and marketing with our Case Studies. This holiday season and new year, let us give you the gift of more leads, more sales, and more marketing dollars saved and most importantly all the peace, joy and good cheer that comes along with it.