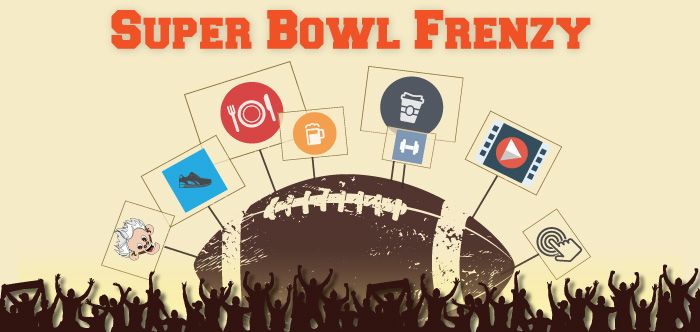 Brand marketers will give up a record $5 million for a 30-second ad during the FOX broadcast of this upcoming 2017 Super Bowl. However, things are a bit different this year. Because of the chatter about the game happening online, those wanting to market their goods in conjunction with the big game are also pouring record amounts into their digital advertising platforms.
According to Jesse Cahill, head of planning for North America at Essence, "You don't necessarily need to be in the live broadcast with the rise of the cultural wave for particular events. There's a lot that happens before the event, or in the cultural zeitgeist of how people build anticipation for that event, and how that affects people when they're thinking about that event."
Last year during the Super Bowl, a number of creative, effective commercials were aired. This is not surprising, because for many, the commercials are actually the highlights of the big game! One of those ads was for a company called Shock Top, a producer of Belgian style wheat ale, brewed with orange, lemon and lime peels and coriander. It was their first time airing a commercial during the Super Bowl. The ad was a big triumph, but that commercial was just a small part of the success they encountered as a result of the digital elements surrounding the campaign.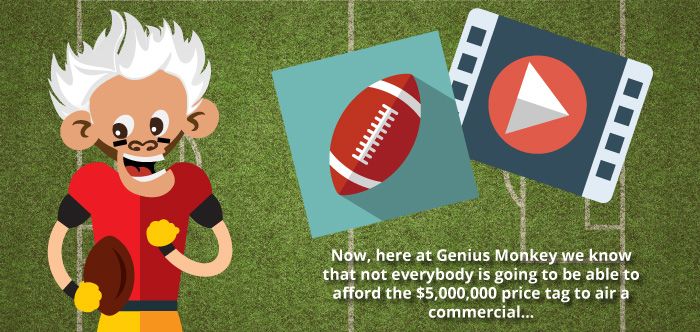 Now, here at Genius Monkey we know that not everybody is going to be able to afford the $5,000,000 price tag to air a commercial, but that doesn't mean that a company can't take full digital advantage of the circumstances surrounding the big game.
Jake Kirsch, vice president of Shock Top, shares some of his insights and lessons learned from the experience, and why the Shock Top team took a digital-first approach:
The Super Bowl commercial featured a comedic actor, TJ Miller, who engaged in a rather unfiltered conversation with Shock Top's mascot, Wedgehead, a cocky-quipping orange slice mounted on a beer tap handle. Rather than let just show the commercial and sit back, Shock Top followed up with a digital video spot the very next day. It featured Wedgehead and TJ reviewing the other commercials that aired during the game. It was mostly ad-libbed, but it was very funny, and worked tremendously.
According to Kirsch, "Without the budget of some of the bigger brands, we had to be very purposeful in where and how we invested. To maximize the Super Bowl campaign, we thought of it in three phases-the before, during and after. We knew the day after the Super Bowl was a huge opportunity, and we capitalized on it with our "Big Game Ad Review."
In order to sustain the momentum of the TV commercial, Shock Top had to leverage digital, balancing broad reach with contextual targeting, creating over 90 pieces of content that was released over a 30-day period. The thinking was that they could balance the hero creative with the extended cuts and contextual pre-roll ads to build out the campaign.
Shock Top didn't heavily promote their half-minute Super Bowl commercial, rather they put their media weight behind the additional digital-only spots that they had created. They knew that while the commercial was great, made-for-digital content always outperforms, which was evident in the results.
In addition, Shock Top created more than 60 different quick pre-roll ads that were between four and nine seconds long. These ads related to the content that they would be running against. They determined which videos were the most-watched, and searched-for content categories, on YouTube that were relevant to their brand, and that were true to the Wedgehead personality. As an example, one of the pre-rolls they did was for a food-and-recipe-related video, in which Wedgehead, when asked how his beer tasted, commented that it tastes like the way it feels to "skip" a pre-roll ad!
In order to get a pulse on viewer engagement, Shock Top optimized to stronger creative during the campaign, eventually using the results from their video buy, which helped them decide what to run on TV for the rest of the campaign. They identified two 15-second ads to run after the Super Bowl. The metrics they examined were the VTR (view through rate) and brand lift on ad recall.
When asked about how he measured his campaign, Kirsch said, "We saw improvement in key brand measures as well as in our first quarter sales trend. Digitally we measured views, clicks and VTR. We also ran brand lift studies on almost every element of the campaign. We proved that we grew brand health when we looked at studies on ad recall, favorability and consideration. We also saw a massive lift in Google searches for "Shock Top."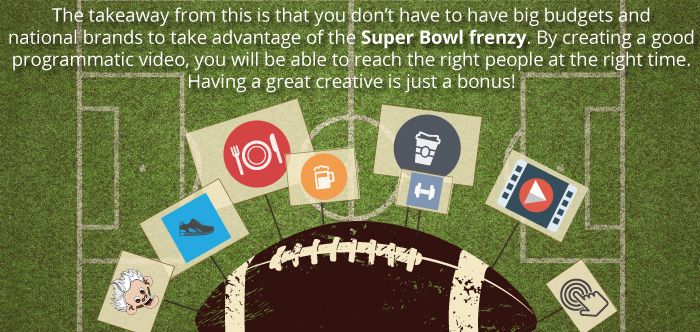 The takeaway from this is that you don't have to have big budgets and national brands to take advantage of the Super Bowl frenzy. By creating a good programmatic video, you will be able to reach the right people at the right time. Having a great creative is just a bonus!