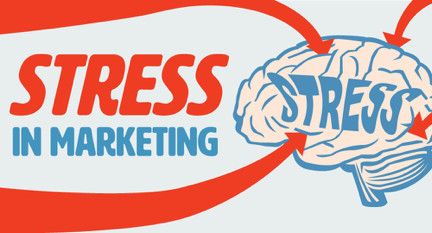 Being a successful marketer requires more than just working the job; it requires a sense of pride and passion for the ad world. It requires a broad knowledge of the technological breakthroughs, as well as the processes that create successful ad campaigns for clients. This, however, requires the ability to handle a great deal of stress, or to control your actions in a manner that thwarts stress. For instance, you may be concerned about how the Google Analytics statistics are shaping up. Maybe you're angry with Facebook for throttling your organic page reach, or perhaps the post you recently wrote isn't ranking in Google Search.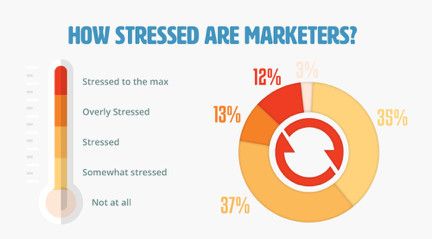 Stress has become an issue worth addressing for a number of marketers, with over 50% of them reporting that they are overly stressed, some close to reaching the proverbial ends of their fuses. This is completely understandable when one realizes that there is constant pressure to hit "stretch targets" for customer acquisition or revenue growth.
Over half of all marketers have reported that they get disgruntled when they must prove their value to those who may not understand just what it is that they do. In the case of Genius Monkey, we make it look so easy, but the truth is that it's anything but easy. Many folks have uttered the phrase, "I could have thought of that" when they see a clever marketing campaign, but the truth is that good marketing campaigns are much like icebergs; you only see the tip. The bottom three-quarters of the campaign is comprised of a whole team working harmoniously (and sometimes not) to brainstorm the creative hooks, plan and create content and media schedule, and implementing it all to the right crowd.
At Genius Monkey, we alleviate the stress from marketers by taking the complicated advertising technology off their plates … at no extra costs to them. We understand that according to recent research, stress is reaching perilous levels for many advertising executives. Where is this stress coming from? Which marketing teams feel the most pressured and how can this stress be alleviated? By finding the answers to these questions, you may just save the neck of a marketer you may know.
Researchers have done multiple surveys and studies recently on stress in the online marketing industry. They learned there are 3 main things marketers dread and can compound into one big stress mess:
**- Proving your value to people who don't understand what you do - 55%
Juggling all of your work to get it done in a 40-hour work week - 27%
Reporting no or marginal profit gain from a campaign - 23%**
Apparently, nothing brings a marketer down like trying to prove his or her value to stakeholders and trying to get everything done in a 40-hour week! These stressors can be caused by a number of factors, one being too much work and not enough staff. Only 17% of marketing firms feel that they are adequately staffed. The majority feels that they are grossly understaffed and therefore, overloaded.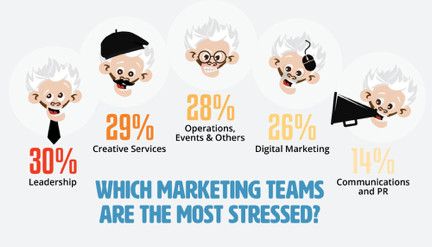 Within the marketing teams, there are some departments that are feeling the pressure more than others, according to the latest polls. The marketing team stress levels reflect where the greatest pressure is at any given moment:
Leadership - 30%
Creative Services - 29%
Operations, Events and Others - 28%
Digital Marketing - 26%
Communications and PR - 14%
No doubt, there are some marketers who may regret their career choice, but the reigning majority wouldn't trade their careers for the world. Here at Genius Monkey, we consider it an honor to always lead the pack in innovative advertising technology and effective marketing campaigns.