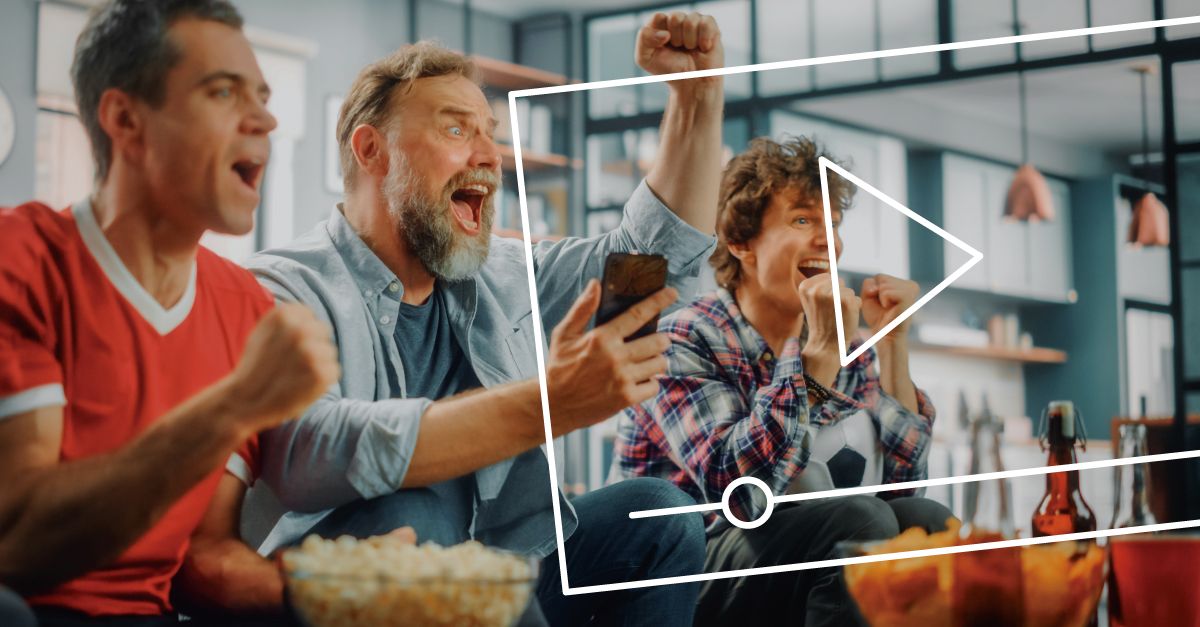 On Sunday, February 12, 2023, millions will gather in their homes—and at State Farm Stadium in Glendale, Arizona—to watch one of the greatest sports spectacles around: The Super Bowl.
The Super Bowl is, as always, expected to be a big event, as last year's Super Bowl had almost 100 million people watching. One thing we can all agree on is that the advertisements during the Super Bowl bring out some of the most creative and memorable ideas in advertising.
Time to bring out the appetizers and check out these cool Super Bowl ad statistics:
HOW MUCH DOES A SUPER BOWL AD COST?
A 30-second advertisement in 2002 cost around 2.2 million. In 2022, the average price of a 30-second Super Bowl ad jumped to $6.5 million and beyond. This number is only increasing—but why? The answer is easy: views. Where else will you get so many people watching and talking about your company and its ad?
In 2022, 68 ads were shown, taking up 44 minutes of air time. More people watched in 2022 than in 2021, which means this year may bring an increase in viewers once more.
HOW SUPER BOWL ADS GOT SO POPULAR
The major turning point in Super Bowl advertising, according to Business Insider, was when Apple aired their Macintosh ad in the 1984 Super Bowl. Steve Jobs wanted to "stop the world in its tracks," and after the ad aired, many saw the Super Bowl as an advertising event.
Soon, other advertisers caught on and began to push the boundaries of humor, shock value, and cultural relevance. Brands like Budweiser and Doritos consistently deliver memorable, hilarious ads to millions of people every year.\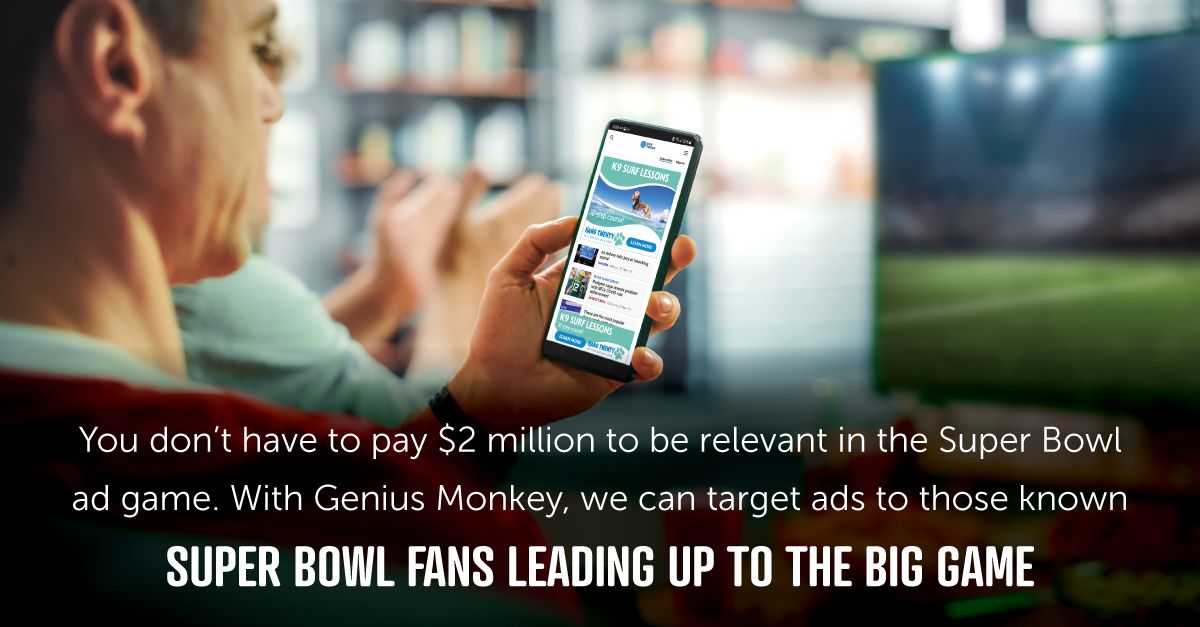 SAVE MONEY BY ADVERTISING WITH GENIUS MONKEY
You don't have to pay millions to be relevant in the Super Bowl ad game. With Genius Monkey OTT, we can target users who are watching sports programs specifically. So why not also get creative with your display, video, and OTT ad commercials and serve ads to those known Super Bowl fans leading up to the big game? Lean into programmatic ads at a much more reasonable cost by working with Genius Monkey.
Better yet, we know that the best use of ad dollars during the Super Bowl and Halftime Show is to advertise to people on mobile devices, since smartphone browsing is at an all-time high during this period.
We can share your brand with the right users who will love your advertisement almost as much as they love Super Bowl ads. And, you can reach just as many people as the Super Bowl reaches for a lot less money and with a lot better targeting. Genius Monkey can target behavioral attributes that will match your product or service with the best possible customer.
| Price | Reach (average super bowl viewership) | Cost Per View | Cost Per Conversion |
| --- | --- | --- | --- |
| $6 million Super Bowl ad | 100 million | $0.06 per view | — |
| $300k Genius Monkey ads | 100 million | $0.003 per view | $38 per conversion |
In other words, for 5.7 million dollars less you can have the same reach and viewership, but with actual layered behavioral targeting—not just a "spray-and-pray" method to a mass audience. And don't worry, we can probably accomplish your goals for a little less than $300k.
WHY PEOPLE LOVE SUPER BOWL ADS
It's no surprise that the advertisements that play during the Super Bowl are the most-watched advertisements year after year, with a whopping 90-110 million viewers, depending on the year.
People especially enjoy these ads because they're highly creative, over-the-top, engaging advertisements that companies spend millions of dollars to air. So you can bet they'll be top-quality ads.
Another reason is because of simple tradition: the Super Bowl has been around for 50+ years, and over time, the tradition to watch advertisements became part of the entire experience. You can't watch the Super Bowl without watching the halftime show and the ads—it's part of the whole package!
OUR FAVORITE SUPER BOWL ADS
Brand Innovators is tracking which brands are advertising this year and which are sitting out. To see a list of brands and commercials you can expect to see, click here.
Don't lose out on epic advertising. Take advantage of each big holiday, whether it's the Super Bowl or the 4th of July, to target your audience and customize their ad experience. And wherever you'll be watching, we hope you stay put during the halftime commercials and enjoy them to the fullest.
At Genius Monkey, we know advertising. Let us help you bring your A-game and improve your digital marketing strategy.