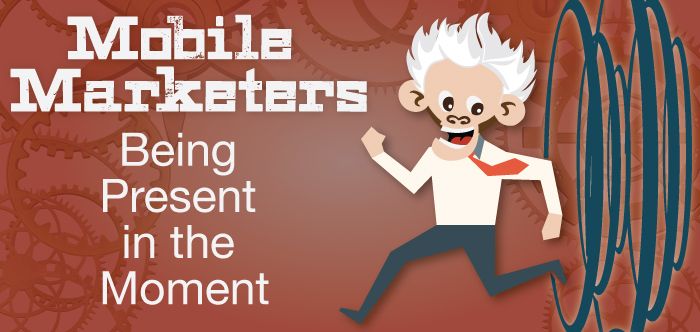 Most brand marketers recognize that we are now living in the future; at least technologically. Now, successful companies are recognizing that they must be there for consumers during the pertinent moments of their purchasing journey.
With the new mobile technology, advertisers can now reach out to more consumers than has ever been possible in the past. Thanks to the advancements in programmatic digital marketing, engaging consumers in all walks of life has become much easier; but they must be present in the moment!
While technology flourishes, there are also complex challenges that arise; begging questions by leading marketers, such as:
Consumers want, and expect, immediate results; how do we respond to that need?
The media landscape is so fragmented; how do we share our brand stories?
How do we measure the impact of our ads across so many touchpoints and devices?
Organizations must adapt while keeping it simple, so how do we help them accomplish that?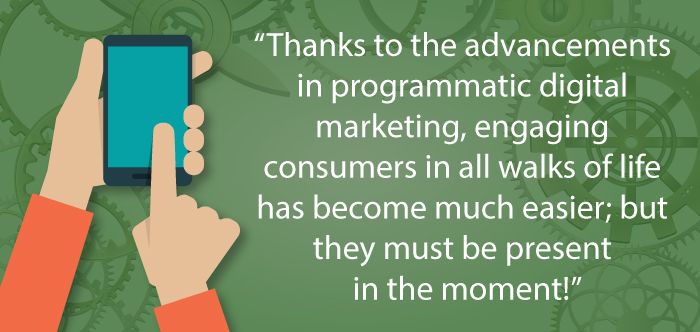 These challenges can be overcome, enabled by artificial intelligence and mobile, but in order to make these points work for them, rather than against them, advertisers must cross further into the future. Here are a few commitments made by three different companies who leaned further into the future. These particular companies were examined closely by Google, who conducted the study, yet the course of actions they took would apply to any business looking to build better results and stronger brands. These are the three commitments that were put into place, along with the corresponding results:
First Commitment - Be Present in the Moment
No matter what type of business you're in, whether it's retail, banking or automotive, the traditional footsteps have significantly declined over the past few years. Fortunately, they have not disappeared - they have actually increased. But they are occurring online, and mostly on mobile. That means that brands must come in first place over their competitors, and the way to do it is to be present in the crucial moments.
A good example of being present in the moment is L'Oréal USA. They recognized the shift to internet, and came to the realization that consumers want to know if, and how, a product works before they ever get to the store.
They monitored just what people were searching for, paying attention to the how-to videos that people were producing on video share sites. This helped them stay ahead of the trends, gaining insights that drive their creatives.
When L'Oréal Paris decided to launch their Advanced Hairstyle in the United States, they examined the search trends and utilized what they learned to power several personalized display creatives, putting ads out there that mirrored the very hairstyles that consumers were going for: Curly, wavy, updos, braids, etc. They offered videos that demonstrated just how to use the product to achieve those looks.
These ads resulted in tremendous results across key customer segments, generating over ten million views. In short, each time someone went looking for tips on how to style their hair (and there were more than ten million searchers), L'Oréal was there … in the moment.
As a marketer, you must ask yourself if you are aware of the winning moments, if you are a step ahead of the consumers' needs, and are you tracking the engagement.
Second Commitment - Rethinking How to Share Brand Stories
Mobile is leading the pack as the rapid growth in video consumption accelerates. People are using YouTube and other video sharing sites in just about every aspect of their lives. And, of course, there is the entertainment value that attracts viewers as well, but these funny cat videos are the "take-a-break" moments centered around the particular interests of the viewers. The average watch time for video viewers on mobile is forty minutes.
In the world of mobile, advertisers have a substantial reach, but the penalties are significant for boring the viewers. In order to gain the attention of consumers, the right video must be presented at the right moments … and right off the bat.
While a 15 - 30 second spot may be effective for capturing the attention of viewers in their take-a-break moments, just six seconds is a sufficient to catch somebody's attention using the powers of sight, sound and motion. If they like what they see, they can invest more time.
As an example, in just six seconds, L'Oréal demonstrated the effectiveness of their Root Cover Up Concealer Spray. Brands that offer a broader variety of creative lengths are realizing outsized results.
On the other side of the video spectrum, Colgate rolled out their Optic White Express toothpaste by hiring two well-known beauty bloggers; each with their own massive YouTube following, to create a video geared towards the tooth whitening product. Both had over 5 million subscribers, and between the two; over a half billion views. That particular video, by the way, generated over 24 million views! On top of that, when Colgate carried the branding message over to their television and print ads, they realized a 1,116% lift in brand interest!
Third Commitment - Measure the Effectiveness
By embracing this new behavior of reaching and engaging audiences throughout their entire journey, marketers can reach out to a much larger, more qualified group of consumers. In order to do that, they must use a mobile-first approach to measurement.
One good example of a company's success in doing this, is Fiat Chrysler. They recognized the paradigm shift towards mobile. In addition, they realized that their traditional efforts that focused on the lower end of the funnel were not being effective.
The team wanted to score before the consumers even reached the dealer, knowing that today's shoppers do much more of their shopping online, rather than on the lot … and they made it happen.
For their RAM Trucks division, FCA identified the key moments that occurred before customers ever reached the lot, one of which was the "which-truck-is-right-for-me" moment. This revealed what consumers want to know about trucks, and what features they juxtaposed with other brands. They then geared their strategies towards addressing these Key Performance Indicators (KPIs), and updated their content and campaign to be helpful in these moments, moving away from end-of-funnel, or last click. As a result of engaging consumers earlier in the hunt, RAM Trucks acquired more informed, and better quailed customers.
Genius Monkey is ready to lead our clients towards success as they pivot towards mobile. We do this by assuring that they are there for consumers in the right moments, sharing their brand stories appropriately and measuring their effectiveness through proper attribution.