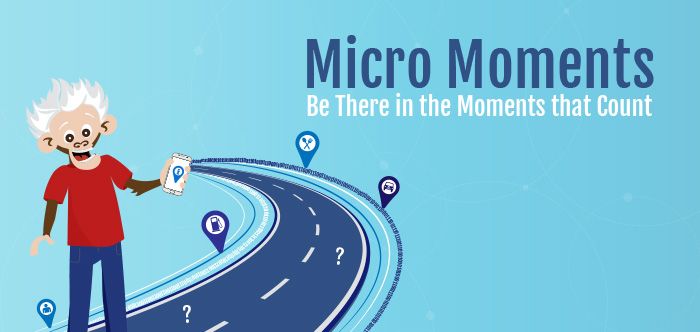 Did you know that:
Compared to a year ago, smartphone users are 50% more likely to plan on purchasing something using their smartphones to compare availability, prices or customer reviews.
Over the last two years, toothbrush searches have increased over 80%.
Over the last two years, "best" toothbrushes have increased over 100%
Over the last two years, mobile searches for "best" have increased by 80%.
We are now 50% more likely to depend on our smartphones to make spur-of-the-moment purchases than we were last year.
More and more people are joining in on the smartphone revolution. In fact, most people own one now, and if they don't, they are behind the times. The information highway is no longer just found in your computer … it's in your pocket, too! The search behavior of consumers is continually evolving, and their high expectations leave no room for doubt that when they want information, it had better get to them fast, or they'll just move on to the next site.
People have begun to want, and expect, immediate answers when they have an inquiry. Especially in the moments that they want to know something, go somewhere, do something or make a purchase. Google has coined the term "micro-moments" for just such instances.
The concept of micro-moments has become a viable term for marketers and consumers alike. The knowledge that consumers experience these "I-need-to-know-now" moments has been a big help to marketers as they continue to learn the needs of consumers, and it has generated a sense of urgency on the part of these brands when it comes to mobile marketing.
It has become crystal clear that being there in the essential moments is becoming even more important as time marches on. People are starting to get used to the idea that if they have a question, they can get it answered right away (by one source, or another). In fact, many Baby Boomers are forgetting what life was like before having answers delivered into our hands within seconds.
Consumer behaviors are changing
Mobile internet users are ramping up their consumer expectations of wanting info "right here, and right now." Users are now starting to take it for granted that they have a world of knowledge tailored just for them, at their fingertips. But as is always the case with human nature, we want answers quicker, with more relevant information and more personalization. Genius Monkey knows and anticipates that the bar will continually be raised, so we like to stay one step ahead of the moments that count.
The "sophisticated" consumer
When was the last time that you, as a consumer, turned to your smartphone to help make a decision? Was it something big, like a vehicle, or a family vacation? Or, was it something a little less substantial, like the best way to cook an ear of corn, or which kind of glasses should you wear to watch an eclipse?
In today's technical world, we are turning to our mobile devices to enable us to make the best decisions we can, whether it's to find the right construction company to build your home, or to get blow-by-blow instructions on how to make Spanish paella for dinner. This fact is evidenced by the increase in the mobile searches for "best." In fact, searches for "best" anything have increased by 80% over the last two years; and it's not slowing down! It's not necessarily for big-ticket items. As an example, searches for toothbrushes increased more than 80% over the last two years, and searches for "best" toothbrushes have increased by an astounding 100% over the same time period. It has certainly increased our human abilities to research topics that, in the past, we'd never have time to examine. Now, with the mobile search capabilities we have, research is as simple as the tap of a finger, letting us feel more confident about our decisions as we make up our minds and make the purchase.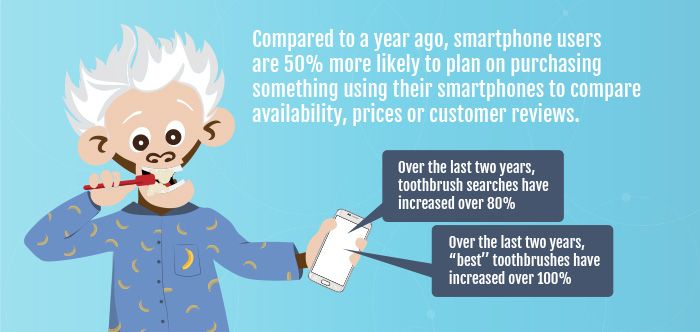 "Right here" consumers
Searchers expect mobile digital experiences to be made just for them. This is inclusive of experiences that may be tailored to the location they are currently in. As an example, you may wish to find the best Mexican restaurant nearby. You would most likely include the area name, zip code or just "near me." We now expect brands to know just where we are, and provide location-specific information that's relevant to our current situation … quickly.
These "right here" consumers also encompass websites and applications as well. Consumers of today are way more likely to make purchases from companies whose mobile sites or applications can customize their experiences based on their location. It's frustrating to be looking for seafood in Phoenix, Arizona, and get the name of a good fish restaurant in Phoenix, Oregon! People want and expect their smartphones to keep track of where they are, and just "know" that they want restaurants near them (unless their Sea Bass is good enough to compel you to drive from Arizona to Oregon).
"Right now" consumers
There are certain things that you may need right this minute, or as close to this minute as possible! If you're hungry, it could be a vegetarian restaurant, if you're very ill, it may be a good gastroenterologist, if you just climbed out of the poison ivy patch, it may be a pharmacy, and if you have a toothache it is probably going to be a dentist. We as consumers are relying more now than ever on our smartphones to make last-minute or spur-of-the-moment purchases. Case in point, we are now 50% more likely to depend on our smartphones to purchase something immediately than we were last year.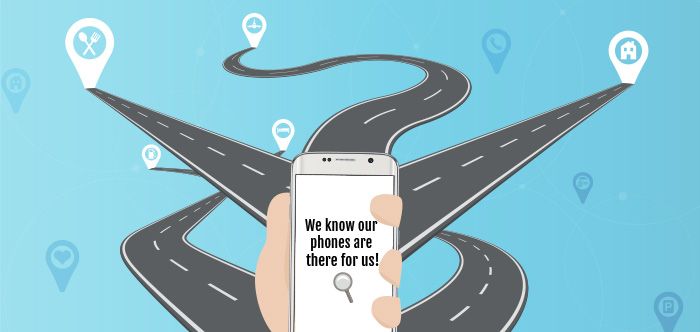 We now feel empowered-more flexible-by using our mobile devices to make up for a lack of planning, or knowledge. We know our phones are there for us, and that brands will respond to our needs in a very expeditious manner. If the results are not immediate, we move on to the next site.
What's in store for the future?
In the digital world, there is one thing that remains ever-unfluctuating; and that's the fact that there will always be fluctuation! Consumers' expectations will continue to rise, people will increase their need for information, and they'll want to have more personal mobile experiences in an even faster manner.
At Genius Monkey, we have a firm grasp on how important it is to our clients' success to be in the right place at the right time. We will continue to extract insights from these advancing consumer behaviors, and utilize our proprietary attribution and tracking technology to place their goods and services in front of the searching potential customers … when and where they need it.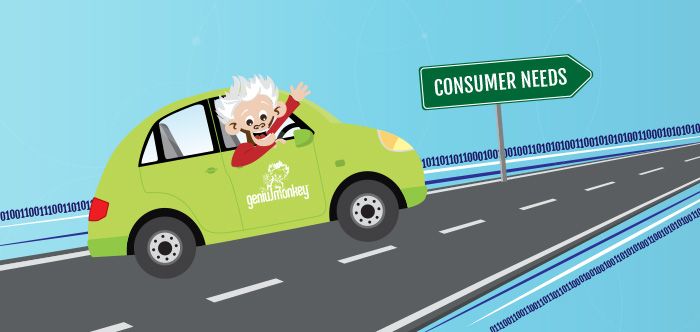 Genius Monkey: One step ahead of evolution!