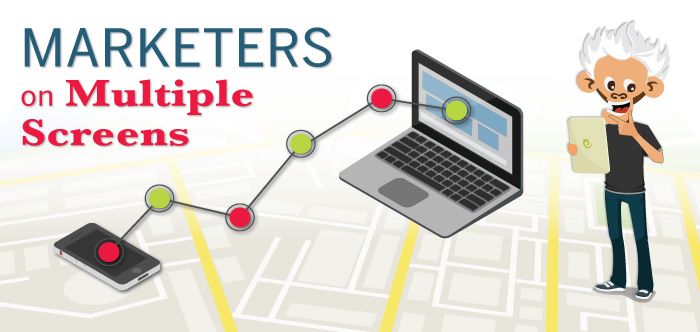 Most internet users of today experience media on a number of screens, such as their smartphone, computer, tablet and television. This means that a user may start a function on one device, yet finish it on another.
Here's an example:
Have you ever searched for product information on your mobile device, then continued your quest once you're in front of your computer? According to recent Google research, 90% of users do just that: Start on one device and finish on the other. Whether someone is using their desktop at the office, or their smartphone during their commuting hours, constant connectivity means that users are getting online using different devices throughout the day.
That's why it's imperative for a successful marketer to reach out to everyone on all devices and channels. Businesses that allow users to interact with their web presence in all circumstances and on all devices, are able to generate more engagement. However, they'd better do this efficiently, or they stand to lose a great deal of money.
All advertisers can hit all of the devices, and that's important, but how do they know how much to spend on which device, and which demographics and behaviors to aim for? Hypothetically, if you, as a marketer, had all the money in the world, and didn't care about it, you could blanket the market in video and banner ads on all mobile and desktop screens. Most likely, half of your budget would do great, but the other half would simply be a complete waste. You would have been better off just flushing it down the commode!
You must analyze and evaluate the traffic on your site, and gain an understanding of where your customers are coming from. You should know what times they visit your site, what type of content they consume and especially, which device they use. This will help you understand the status quo, and will help you identify the specific areas to prioritize.
This is where Genius Monkey's attribution and optimization comes into play:
Using our proprietary attribution tracking, we are able to gain a true picture of the success of your programmatic digital marketing campaign, and for any other digital campaigns you may be running, such as email or PPC search.
For example, do you know how many of your email recipients opened an email campaign, did not click any links in it, but ended up converting on your site? Unfortunately, email programs have no way of tracking this … but we do. While analytic programs are great and necessary, they have no real way of tracking an impression or giving multiple credit to multiple campaigns. But here at Genius Monkey, we do.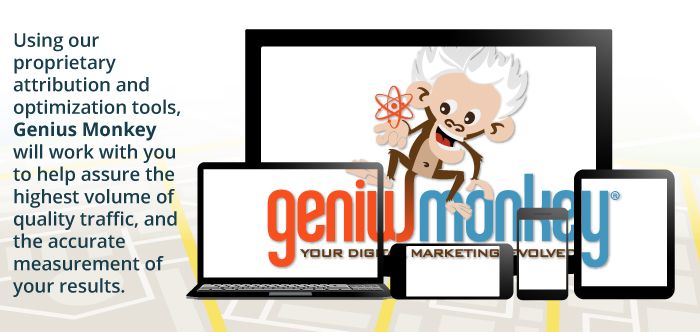 It's important to track the value of programmatic ads across all screens and through the entire customer journey, rather than measure only the conversions from a direct click, as so many advertisers tend to do. Using our proprietary attribution and optimization tools, Genius Monkey will work with you to help assure the highest volume of quality traffic, and the accurate measurement of your results.