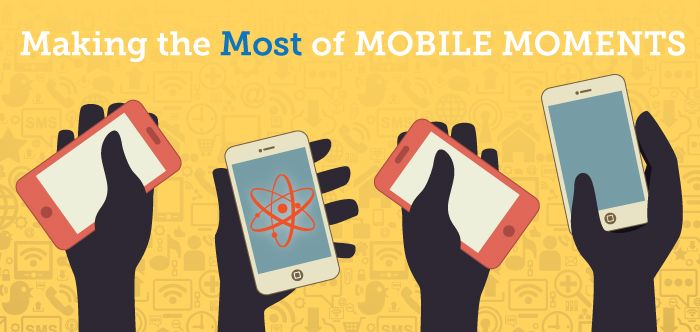 A recent survey revealed that people interact with their mobile smartphones an average of 13 times per hour. In addition, 60% of ads that people found to be influential in making a purchase were viewed on a smartphone. These stats should be very telling to a company interested in the capture and conversion of their mobile customers.
Red Lobster is a good example of a company that is taking advantage of the mobile behaviors of their customers. They found that 60% of the traffic on their website would occur during their dinner hours of 3:00 p.m. to 6:00 p.m. They recognized this as a great opportunity to drive new growth. They began to target mobile customers-when they were close to a restaurant-during the prime dinner hours-while in their "I-want-to-go" moments. They used the number of visits to measure the effectiveness of the campaign. The findings revealed that those mobile customers who saw Red Lobster on their mobile phones were 31% more likely to visit the restaurant that very day, and 17% more likely to visit the following day.
One would be sorely taxed to walk into a mall and find an adult who is not carrying a smartphone. It is just what we do now. We are connected to our phones at the hip (sometimes literally) so that we don't miss any opportunities to research the products we are interested in purchasing, or to find out where these products are located. We tend to patronize the locations that are there when we need them … in the moment.
In a recent interview by Google executives to the Bain and Company marketing team, Bain revealed that the brands that are succeeding today are the those taking a mobile-first approach to their marketing. They also revealed how brands can most beneficially use mobile to engage consumers and drive growth.
It was no surprise to once again learn that yet another top-notch company has expressed the importance of what Genius Monkey has been doing correctly for years: Making the most of properly-measured mobile moments. We know that mobile has a fantastic potential to reach out to consumers and influence their decisions.
"It always amazes me that brands aren't rushing to reach consumers via mobile, but most of them aren't there yet," said Jeremy Hudgens, CRO of Genius Monkey. He added, "Companies are only spending 13% of their ad budgets on mobile ads. Given the return of mobile ad spend, I'd think that those numbers would be rising much faster than they are. We are strongly promoting mobile marketing to our clients because we know what effect it will have on their bottom line."
In order to gain the trust and business of their consumers during their mobile moments, companies should take a closer look to realize that the attention span of customers has gotten much shorter, so the way we reach out to them via mobile must change as well. They must be quick, to the point and easy to follow.
Genius Monkey is a very results-driven company that understands the wants and needs of their clients. We strive to teach them that the game has been changed by the advancement of mobile. The key performance indicators must change, and the rules and measurements for mobile are going to be different than with the other forms of advertising.
Mobile Measurement
Under the traditional rules of digital metrics, an activity isn't counted as contributing to the purchase if the consumers don't purchase from the device they see the ad on. In light of the fact that 79% of consumers use their smartphones to research, but only 10% actually make the purchase on their mobile devices, the last-click attribution models have become antiquated and inaccurate. So, we must determine the most effective way of measuring the consumer journey, which is nonlinear and has gaps in the data.
Bain ran an analysis of 535 marketing campaigns to better understand how companies can utilize proxies for the purpose of mobile measurement. They discovered that for every $100 of revenue attributed to mobile ads by conventional metrics, companies should attribute $90 towards mobile for purchases made on another device. Using this 1.9X formula to the revenue attributed to mobile by conventional metrics, brands can better estimate the true effectiveness of the platform.
Brands that are prepared to experiment and learn, rather than just optimizing existing strategies, can discover unexpected opportunities on mobile. As an example, Angie's Boomchickapop low-calorie, low-fat popcorn employed a test-and-learn approach across six of their locations. Their mobile-first strategy was designed to reach their chosen target; young, active females in key popcorn micro-moments, such as being near retail locations-on weekends.
By implementing their mobile-moment strategy, Boomchickapop realized a 23% lift in sales in their test markets. In addition, they also calculated an ROI of $1.30 for every $1.00 spent on the digital campaign. In this case, they measured the broad aspect of retail sales, rather than the effectiveness of one ad, and found that their campaign made a true impact on these retail test markets. This is the power of mobile marketing.
Marketers who want to use mobile to achieve broad business goals should:
Have your customers' wants and needs at the top of the priority list. They are willing to tell you how they use mobile, and what the key micro-moments are for their brand. They must understand that if you can be there for them in their "I'm-ready-to-buy" moments, you can have a huge impact on their buying decisions.
Reconsider your approach to measurement. You may be surprised at the role that mobile plays in your customers' decision making.
Don't be afraid to experiment. Use proxies and estimates to create a mobile strategy, then see what this new strategy does for your bottom line, testing as you go.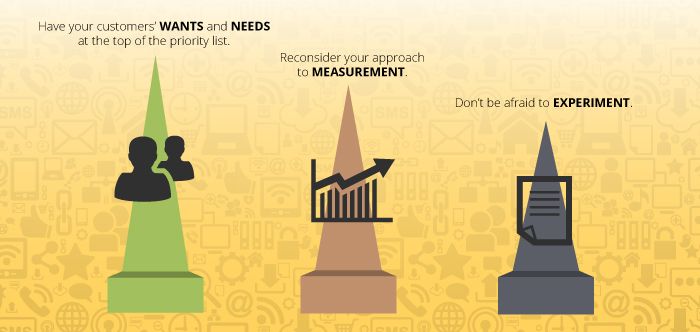 At Genius Monkey, we understand the impact of mobile on today's brand marketing, and we have grasped the mobile marketing concepts for several years. We will help your company evolve in this mobile world, using our advanced marketing technology so that you, the marketer, can reach millions of targeted mobile customers with ease, and at a fraction of the cost of traditional marketing.