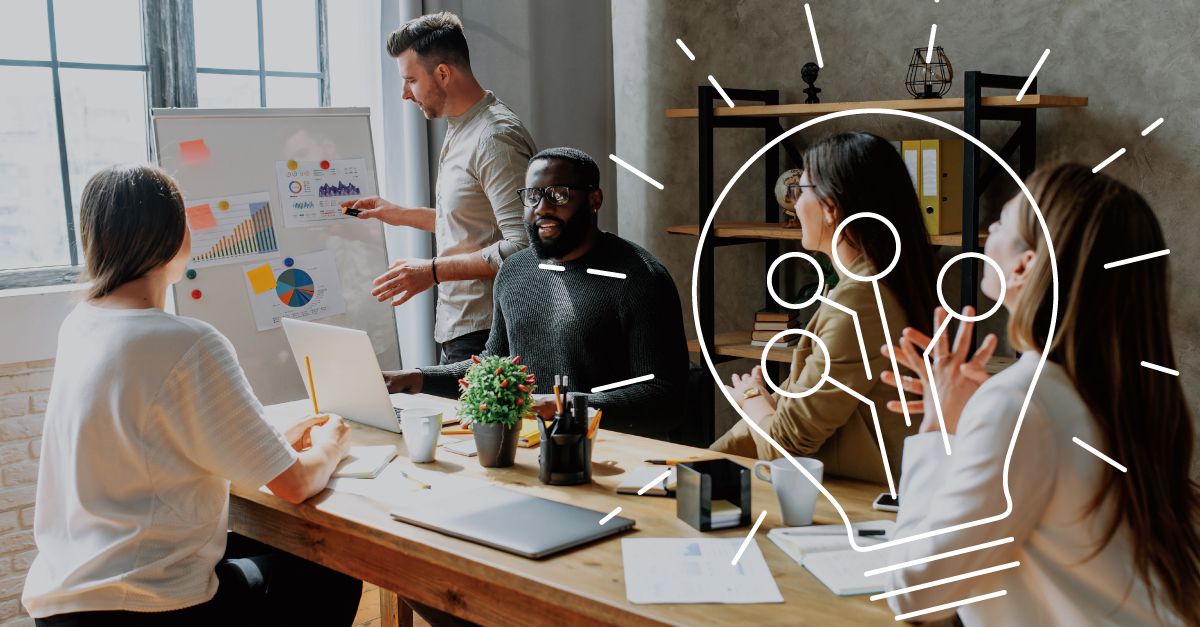 The leadership around here at Genius Monkey has a saying they always reiterate: "The only way to see the future is to always be innovating and adjusting . . . not adapting. If you are adapting, it's too late."
COVID-19 brought even more popularity to binge-watching, which dramatically fast-forwarded the streaming industry at an outrageous pace. People did adapt—to watching streamed content around the clock. So the marketing industry also had to adapt quickly.
The marketers who benefited the most during the pandemic thus far, however, were those who were already utilizing OTT and streaming video ads because they innovated or adjusted to that medium early on. They already knew what worked, so all they had to do was pour more fuel on the fire they'd already been burning for a while.
How to Innovate and Operate Better Than Your Competitors 
The first place you might want to start is to evaluate your online sales strategy. This is a new digital world, and if your sales funnel is not airtight and streamlined online, you will lose. Even if you are a brick-and-mortar store, you need to be set up to sell online and have creative ways for delivery or pickup. It's already past the point of people wanting that—they expect it—so start looking one step ahead to the next innovation.
The second step may be to ask yourself, "What are some audiences that we're not making traction with very well, and how can we approach them differently?" Look for unmined opportunities or problem areas that need improvement—some of which might be outside of marketing, directly.
Look at everything. Then get creative with ways to address those things.
Some examples of where to start might be: Do you have a potential audience segment that deserves more of your attention? Do you have an audience that yields a larger return that you need to focus on and boost efforts? Do you have a portion of your site where visitors or potential customers are dropping off somewhere in your sales cycle?
One of the precursors to success is seeing something before others do. That's where true success is either won or lost: early on. Because if you don't see what needs to be done and act quickly, then somebody else is going to see it and have the advantage.
If you wait to see if OTT or audio might work for you and just keep waiting for everybody else to tell you whether or not it works, then the bulk of the benefit will have already been claimed. It's all about being proactive with your marketing strategy and tactics.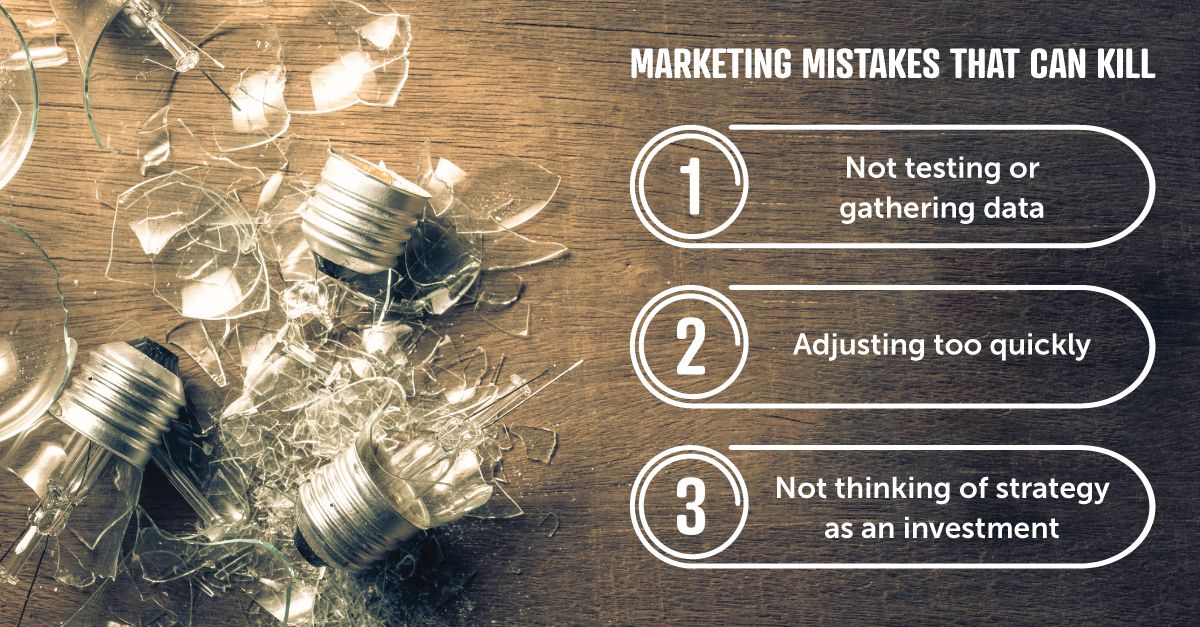 Marketing Mistakes That Can Kill
Early-bird marketing and innovation doesn't produce results by accident. It takes planning, effort, and patience to see returns on your hard work. Still, there are a few key problem areas and mistakes marketers should be aware of when trying to stay ahead of the game.
Mistake #1 – Not testing or gathering data
Data should be driving ALL your actions. "Your gut gives you a place to start, but data gives you confirmation you're headed in the right direction," said Genius Monkey CRO Jeremy Hudgens.
Oftentimes people will just choose a direction and just keep going. But there needs to be some sort of assurances along the way that you're headed down the right path—assurances backed by data. If you're not testing, gathering data, or using the data that you've gathered, you should start now.
Mistake #2 – Adjusting too quickly
Another mistake people can make is adjusting too quickly. Let's say you test a hypothesis and add programmatic audio to your ad mix but get discouraged quickly. You may think, "I've been testing this for 6 weeks and it's not performing as well as display." That may be correct, but all the data must be weighed; if your display ads have been running for 9 months, you have to give programmatic audio time to catch up. Learn more about the conversion timeline in our 'Tracking Takes Time' blog.
If you're testing a certain audience segment, don't rely on days or even weeks of testing—accurate and solid data may take months. What is solid data? Solid data usually provides you with a clear confirmation or a red flag. If the data is not speaking loudly, or if you're not getting enough volume of data for it to speak loudly, then you need to give it more time.
Mistake #3 – Not thinking of strategy as an investment
Your marketing portfolio should be treated like an investment—because it is an investment. There are places where you can and should play it safe, where you continue to get your branding and messaging to your audience.
But just like your financial investments, your marketing plan should have pieces that are set aside for higher-risk plays—pieces you're not afraid to move more aggressively. It's important to carve off areas where you can take those risks and adapt and adjust.
Innovation Begins Outside of Your Comfort Zone
Many marketers don't want to put forth effort into changing what they already have, so if you're willing to step outside your comfort zone and innovate, you'll be able to outsmart competitors. Without stepping outside your own marketing box and trying something new, you're failing to prepare for the future.
If you haven't added programmatic marketing to your strategy, don't wait another week or month to sit back and assess. Our data shows programmatic is only growing, and it's a must-have in any advertising plan. Check out our Case Studies to see real examples of clients we've helped and how we can decrease your costs and increase your leads.