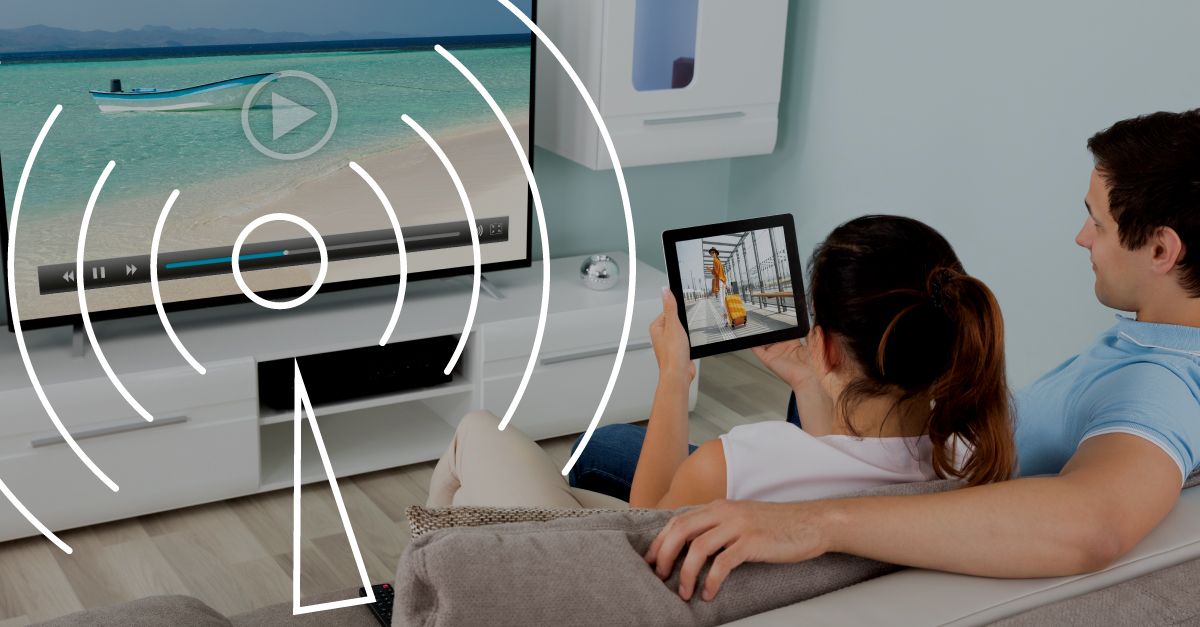 The COVID pandemic was largely responsible for the explosive growth of CTV in the last few years. The lockdowns left many people looking for new entertainment, and connected TV was a simple solution. The U.S. Census Bureau reported a 35% increase in shopping for electronics during this time, suggesting an increased investment into in-home entertainment.
The lockdowns are mostly lifted all over the world, and those TVs are still there and are still used. In fact, the average American spends between 2-3 hours watching TV every single day. CTVs are now positioned as a powerful center of entertainment in the United States: by the start of 2022, 88% of households were reachable by CTV, up from just 50% in 2014.
Who is Using CTV?
Another factor to take into account is the quick adoption by the younger generations. Research suggests that more than 80% of CTV users fall between the ages of 25 to 54, which covers Millenials and a good portion of Gen X. Gen Z viewership is expected to surpass Gen X soon - likely this year - as the upcoming generation gains financial independence and increased purchasing power.
Think about it; more than half of the adults in the United States have either cut their cable or never had it to begin with! Traditional television continues to decline as the younger generations skew ever more towards the on-demand convenience of streaming and other CTV services.


Why You Should Market to CTV Users
Where the young people are, the advertisements must go. As CTV grows, the ad market has also grown substantially with it, despite most streaming services offering a premium ad-free option. In fact, around 73% of consumers prefer ad-supported streaming over paying due to rising costs. And they are happy to watch those ads; CTV ads have an astonishing completion rate of 97%. When normal video ads should target a completion rate of 70%, it's easy to see why the CTV ad market has become so competitive: they work!


That premium ad space comes at a price; $50-$80 effective CPM is the average, some of the highest prices in the programmatic industry. This can be reduced if you know how to use them well; Genius Monkey reported $47.48 CPM in April of 2023, and May dropped to just $38.37. That means more consumers are seeing the ads, and our platform users are spending less to get those ads in front of them. Let's look at some best practices for CTV ads:
Using CTV Ads to Their Full Potential
Be Smart With Your Info
Connected TV ads are basically video ads with one vital distinction: they usually cannot be skipped. CTV ads are great for delivering more information than your average video ad and you can spread that information a little more throughout the run-time. Your message absolutely still needs to be catchy and front-loaded to retain attention, but you don't need to get your entire message out in the first 5 seconds.
Don't Give Up on Linear TV
No single advertising avenue can hold up a strategy alone; even within the television market, it would be unwise to rely solely on CTV and forgo traditional broadcasting. They work best together because:


Plug Gaps in the Sales Funnel
From initial impressions to conversions and then advocacy, each customer is on a journey with your brand that you are responsible for guiding them along. Using split tests, behavioral tracking, and even surveys from your customers, you can find the weakest section of your sales funnel and plug it in. CTV ads are uniquely good at this because of the larger amount of information you can give, thanks to those high completion rates. Check out this case study where ATI used OTT/CTV advertising to simplify and shrink their customer path to conversion.
Common CTV Mistakes to Avoid
Only Advertising on the Most Popular Devices
In the world of streaming boxes, Roku reigns supreme. It's very tempting to focus on a single service when you know the views are there, but remember that the average American household has 4.1 connected streaming devices. If you focus only on Roku – or any other single device/service – then you're missing out on three other potential devices for impressions.


Only Tracking CTV
Your marketing platform should also let you track your customers across each device they own. Genius Monkey takes what we call a "media- and device-agnostic" approach, where our tools can track the individual impressions a person receives regardless of which screen they see it on. Understanding when and where a person sees your ad is crucial to leading them along the sales funnel.
Genius Monkey has always been at the forefront of CTV tracking, and it's now even better that we're partnered with DoubleVerify! For more information on CTV, programmatic advertising, and everything in between, stop by our site and get in touch with one the Genius Monkeys today!