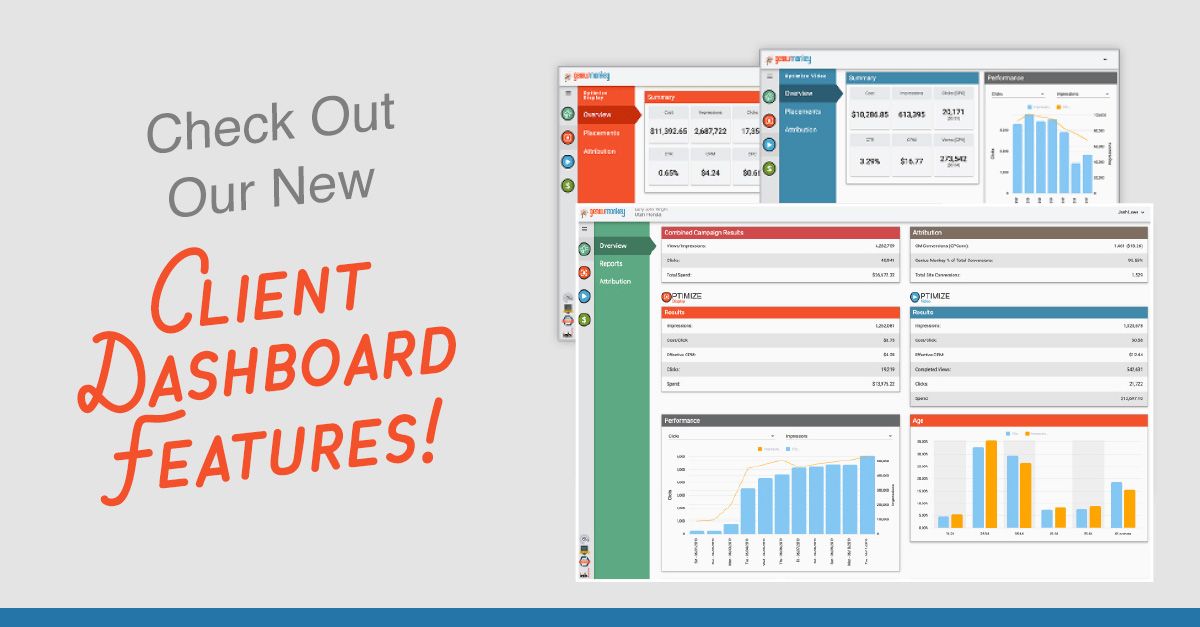 Here at Genius Monkey, we're constantly innovating new ways to provide value to our clients for their digital programmatic ad needs. And one of the most important (and popular) offerings we've implemented over the years is a live dashboard for clients to track and monitor their ad efforts.
We understand how important it is for clients to view the progress of their campaigns, but we also understand how complicated it can be to analyze raw data or granular reporting. That's why, years ago, we introduced an easy-to-read dashboard for our clients. And now we're making that dashboard even better by adding a few new (and powerful) features.
Our New Dashboard Features
Our updated Genius Monkey dashboard is cleaner, faster, and more integrated than ever before. Campaign results, as well as live progress, can be seen, analyzed and compared better than ever with new dashboard features, such as:
A Fresh New OTT (Over-The-Top) Section: Our comprehensive OTT feature gives clients access to live reporting across channels, platforms, and devices.- View a snapshot of overall OTT performance

Breakdown OTT performance numbers by category- Devices (mobile, tablet, desktop)

Channels (ESPN, lifestyle, etc)
Video View Rates (impressions, partial views, skipped, etc)
Internet Service Providers (ISPs)

NinjaCat and Other Third-Party Integrations: We've integrated with NinjaCat (and most other aggregators, as well) so clients can pull data from third-party reporting companies and import it directly to their Genius Monkey dashboard, allowing all their marketing endeavors to be viewed in one place.- Reporting that's easy to read and understand

Comprehensive overview of all digital advertising efforts

Campaign Display Feature: Our new detailed campaign section gives clients the itemized metric options they want–and need–to succeed.- Detailed campaign information and summarized overview

Compare multiple ad campaigns in one spot
View performance numbers and details for individual campaigns
See cost-per-conversion numbers for each campaign

Custom Date Range Comparison Option: Clients now have more ways to compare their campaigns for better analysis and planning.- Compare campaigns from different date ranges

Review previous campaign performances
Plan and adjust for future campaigns

Updated Beautification and Clean Layout: Smooth colors and a careful layout design makes our updated interface easy to scan and navigate.- Colorful charts and visual graphs for snapshot comprehension

Simple layout with clean lines and containers
Easy navigation with minimal clicking
With these new dashboard features, clients can see an overview of their campaign data, across numerous categories, for a full spectrum of their digital marketing efforts.
Our Classic Dashboard Features
Our easy-to-read dashboard has always been a hit with clients, and our new dashboard features will only make things better! Our standard dashboard features have always been strong, however, especially with classics like:
Easy-to-read performance tracking so clients can see everything, including:- total clicks, impressions, views

where viewers dropped off
conversion tracking
which websites showed campaign ads
top segments and site content in which visitors appear.

Full attribution tracking down to the conversions* including items like:- Conversion type

Device type
Interaction level
Conversion dates and times
Conversion IP address
Conversion referral pages…and more
Our new dashboard allows clients to see exactly how their campaigns are performing, while our media and device agnostic capability creates competition that can be adjusted in real time. This allows clients to reach more targeted people for less cost and with a greater collection of data.
Giving Clients What They Need
Adding these new features to our dashboard allows Genius Monkey to give our clients all the data they need, when they need it, with a live platform that's both easy to use and easy to understand.
With a sleek new design, expanded campaign data, and simplified reporting, Genius Monkey is proud to offer our clients a live dashboard that caters to their success. New features have never looked (or reported) so good.
*some may only be available by request via your account representative