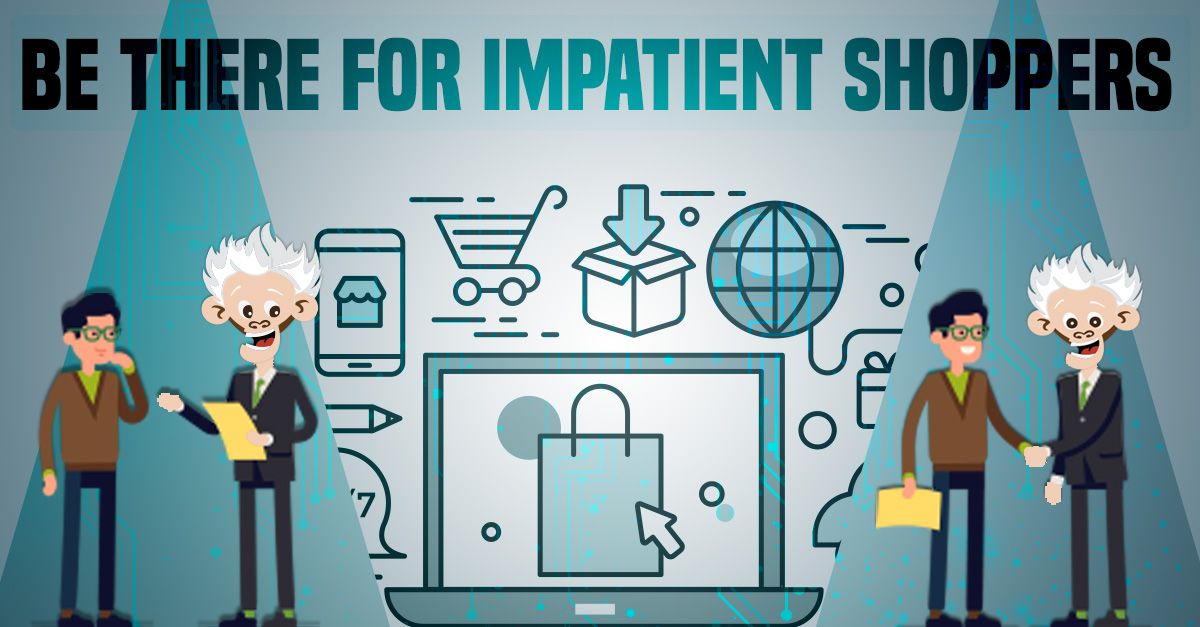 Since 2015, searches for "same day shipping" have increased by 120%
44% of those who use their voice-activated devices say that they order products with it at least once per week
"Where to shop" and "where to buy" searches have increased 85% over the last two years
Omnichannel strategies (strategies that show what's in stock at nearby stores) drive an 80% higher rate of incremental store visits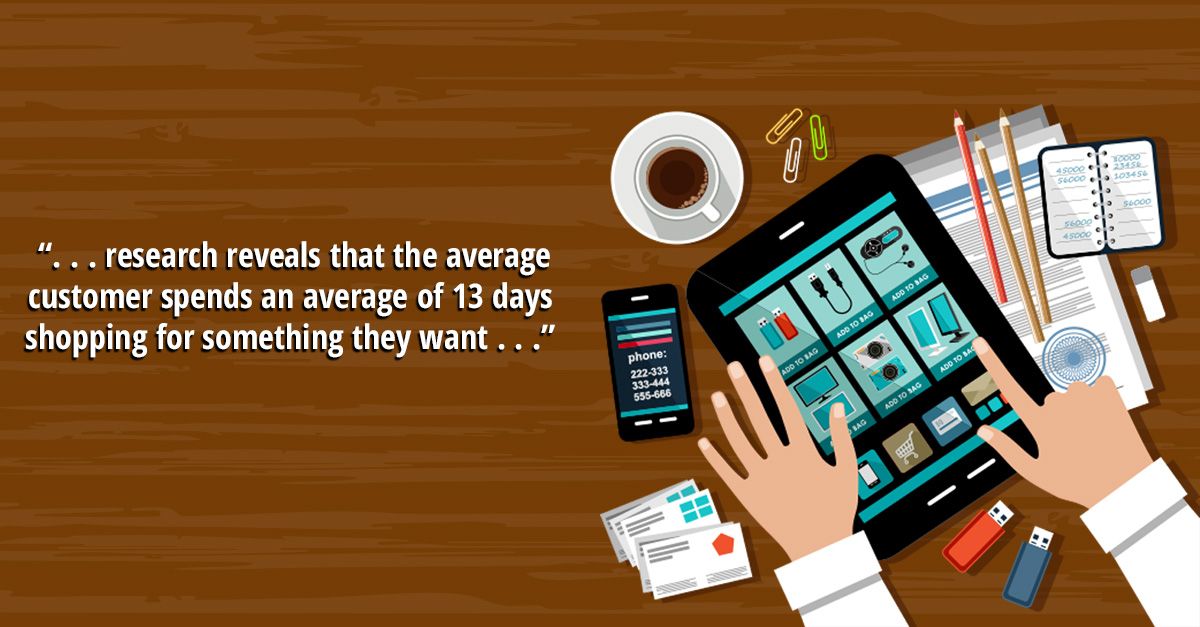 One fact that's hard to contest is that today's consumers are no longer easy to impress. Once they know what they want, they shop for it and buy it right away, but not before they do some homework. In fact, recent research reveals that the average consumer spends an average of 13 days shopping for something that they want, but once they find it, they want it RIGHT NOW!1 This is evidenced by the fact that 1 in every 3 consumers say that they want their item the same day and that they will search to find out how to get it as soon as possible.2
When searching for something urgent, 74% of smartphone users say that they look for the most relevant information, regardless of the company providing it.3 This means that brand loyalty can go out the window if the consumer finds another brand that will offer a more hassle-free experience. So, it's imperative that retailers always be present and at their best during these crucial moments that matter.
In order for retailers to provide friction-free experiences, they must have a clear understanding of just what "friction-free" means. It might mean that people are looking for the fastest method of getting it, or maybe they're searching out "same day shipping" (a search that has grown 120% since 2015).4 It may even be while they're in the kitchen, shopping on their voice-activated speaker. The research revealed that of those who use their voice-activated speaker at least weekly use their device to order products such as groceries or household supplies.5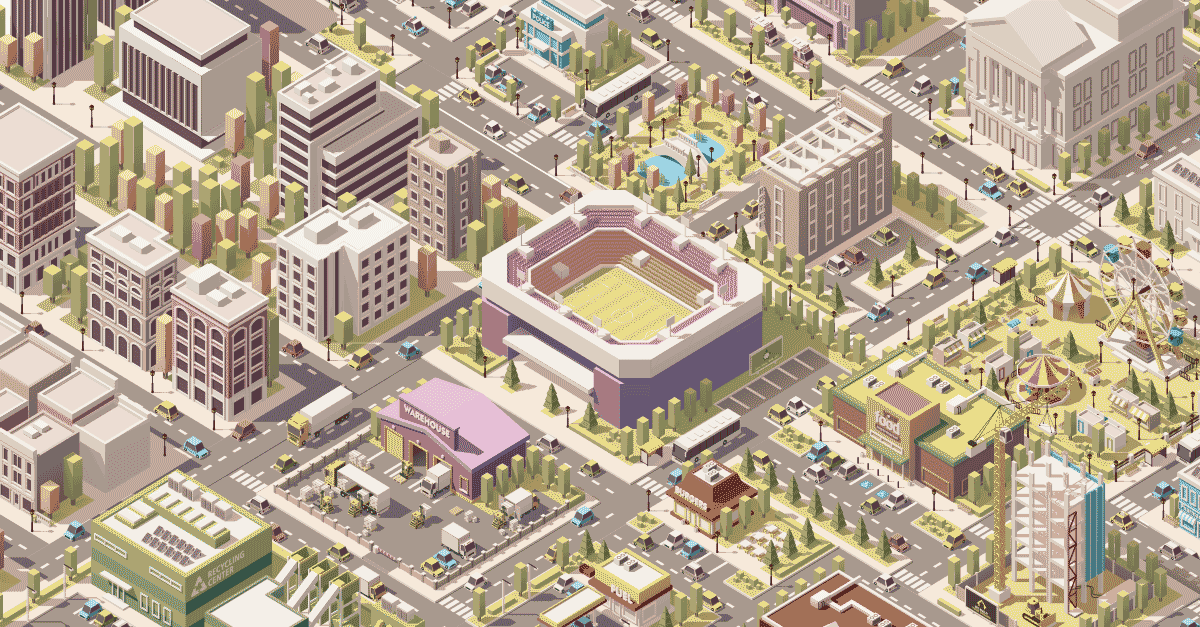 Despite the fact that so much commerce takes place online, brick and mortar stores are still around, and are far from becoming extinct. Mobile searches for "near me" have increased more than 300% over the last two years.6 Also, approximately 80% of consumers will simply go to the store when they need something immediately.7 Lastly, the increase of mobile searches over the past two years for "where to shop" and "where to buy" have increased approximately 85%.
This is actually good news for retailers, as they have a grand opportunity to use these physical retail locations to fulfill the expectations of today's impatient shoppers. This can only be accomplished by retailers always being on-target with their assistance, making sure that these high-intent shoppers find just what they need when they need it … while they are in the area of the store and ready to shop.
In order for local retailers to maximize on the purchasing behaviors of their customers, they must fully integrate their local and digital strategies. Omnichannel strategies (strategies that show what's in stock at nearby stores and increasing bids around your business locations) drive an 80% increase in incremental store visits.8 Within one mile of a store, the click-through rate increases by 28% and the store-visit rate increases by 57%.9 When shoppers within five miles of a store clicked on a search ad, their store visit was 1.7X more likely to be incremental than shoppers who were beyond five miles.10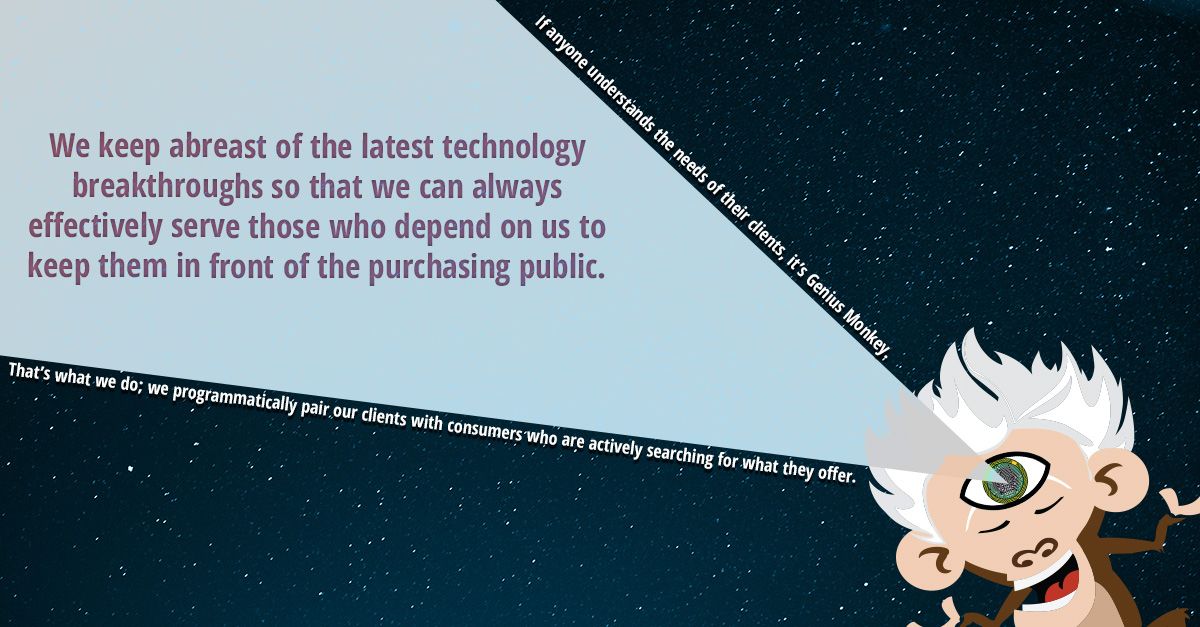 If anyone understands the needs of their clients, it's Genius Monkey. We keep abreast of the latest technology breakthroughs so that we can always effectively serve those who depend on us to keep them in front of the purchasing public. That's what we do; we programmatically pair our clients with consumers who are actively searching for what they offer.
Sources (9)1,2 Google/Ipsos Fall Shopping Study, U.S., n=4720, Sept. 2017.3 Google/Ipsos Connect, Playbook Omnibus 2018, n=1,604, U.S. online smartphone users, A18+, Jan. 2018.4 Google Data, U.S., Jan.-June 2015 vs. Jan.-June 2017.5 Google/Peerless Insights, "Voice-Activated Speakers: People's Lives Are Changing," n=1,642, U.S. monthly active voice-activated speaker owners (Amazon Echo/Dot and Google Home), A18+, Aug. 2017.6 Google Data, U.S., July-Dec. 2015 vs. July-Dec. 2017.7 Google/Ipsos, U.S., "Shopping Tracker," Online survey, n=3,613 online Americans 13+ who shopped in the past two days, Oct.-Dec. 2017.8 Google Incrementality Study, Global, n=146, April-July 2017.9 Google Internal, n=224, Big box and specialty retailers spending 500k+ in paid search, Jan.-Dec. 2017.10 Google Internal, Measured via holdout study, n=205 advertisers, April-July 2017.