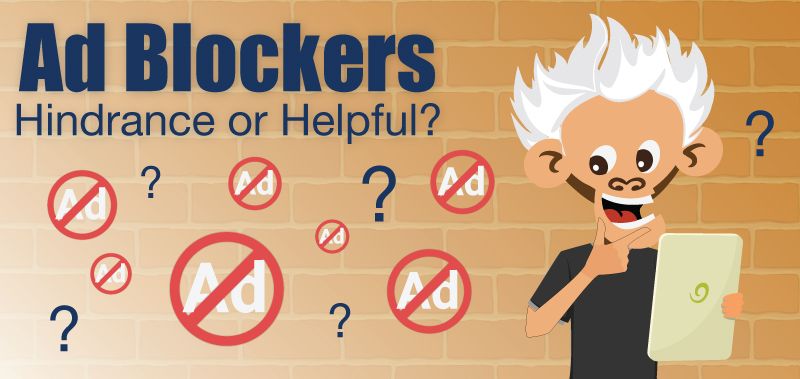 Online consumers are used to seeing ads pop up as they browse the internet. This is not a bad thing. In fact, with the programmatic technology in full swing, these ads can be a great assist to consumers as they search for products and services that they have heretofore displayed an interest in.
That fact, however, has spurred certain technology companies to introduce software that effectively blocks ads from coming through to them, allowing them to surf the internet practically ad-free. These software programs are referred to as "ad blockers."
When first looked at, the statistics regarding ad blockers look like they could be a death sentence to publishers, but fortunately, that is not the case; there is a silver lining to this cloud. According to Jeremy Hudgens, CRO of Genius Monkey, "The silver lining to this is not silver at all; it's platinum!"
Just because an online user has ad blocker software, it doesn't necessarily mean that they use it, or even have the capability to use it all the time. And if, in fact, they do use it all the time, they must be prepared to be flexible enough to change their ways. Otherwise, they will end up paying for their content, or remain in a bubble of zero enlightenment!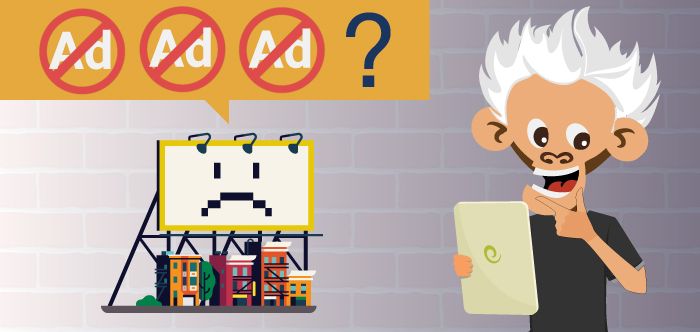 Genius monkey has laid out some of the facts, laced with strong opinions, both on the positive side and the negative side of ad blockers.
Why is it so important to use media and device-agnostic platforms and partners?
Ad blockers is one of the reasons why it's imperative to run campaigns on multiple networks and devices. In doing so, you not only get trusted publishers, but you still get plenty of impressions.
As long as you are optimizing, tracking and using attribution, you will be just fine.
At Genius Monkey we not only block sites that provide bot traffic; we block sites that are providing Low Quality Traffic, because this is usually indicative they are tricking people into clicking.
The Internet, content providers and advertising are not going away. In fact, these components are only growing, and ad blockers are just one more evolution of cleaning things up and giving the people control.
Studies indicate that there is still a great deal of growth in the number of internet users that are okay with ads, as long as they are relevant. This is the reason why programmatic advertising that incorporates a high level of behavioral data, is key.
How is the advertising industry assuring that ad blockers are not more problematic for publishers, and how are they combating them?
The Interactive Advertising Bureau (IAB) has been very involved in the ongoing defense for publishers and advertisers against the onslaught of ad blockers. They estimate that out of the $1.1 billion per year that is lost as a result of malicious software, $781 million of that is due to ad blockers.
The IAB recently revealed seven ways that publishers can combat ad blockers. Number 1 is fully endorsed by the trade organization, while the other 6 are not official recommendations, but rather suggestions to remedy the situation.
First - A small amount of coding, and a bit of convincing
The IAB is about to introduce a script for detecting ad blockers. Basically, this is a piece of code that publishers can plug into websites in order to discover just how much traffic is originated from visitors with ad blockers (that are engaged). This code is not unlike the approaches used by Forbes, the Washington Post and others on landing pages that motivate consumers to disengage their ad blockers.
Headers, overlays or landing pages can be used by publishers to present these messages to site visitors. They inform consumers of the reasons why their ad blockers should be disengaged, or they solicit donations or payment.
Second - Completely Cut Them Off
The report, as well as the piece of code, are part of the "DEAL" program introduced by the IAB. DEAL is an acronym for Detecting ad blocking, Explaining the value exchange for placing ads to readers, Asking them to change their behavior, and Lifting restrictions.
According to Scott Cunningham, General Manager of the IAB Tech Lab and the IAB's SVP of Technology and Ad Operations, "We believe that a combination of tools and the DEAL approach to communication with consumers will allow publishers, big and small, the chance to cut through the blockade, ensuring the strength of the open, ad-supported Internet."
Conversely, publishers such as Forbes and the New York Times are testing the waters by simply discontinuing all access to readers with ad blockers in place. However, the IAB believes that such a strategy is a drastic measure that may alienate current readers. The upside, however, is that this would definitely get the point across to the readers. In fact, according to Forbes, 42.3% of visitors disengaged their ad blockers when prompted to do so.
Third - Pay the Blockers
While certainly a controversial approach to blocking ads, some ad blockers utilize "whitelisting." This means that they ask publishers to pay them in order to have their ads show up on their sites.
The IAB is quick to call this "an unethical, immoral, mendacious coven of techie wannabes," adding that publishers that end up paying the ad blockers are contributing to the further development of ad-blocking software. In addition, the gains are definitely short lived.
Fourth - Make Plans that are Similar to Subscriptions
Publishers that choose not to be so forceful in regards to ad blocking may create tiered subscription plans that restrict the view of those with ad blockers to just a portion of the content. As an example, someone with a functioning ad blocker may face a cap of four free articles per month, while those without ad blockers can read as many as twelve.
Fifth - Pay the Publisher
Some publishers are experimenting with a model that imposes a $1 fee to gain access to ad-free content. Other publishers sustain operations by soliciting contributions to keep them afloat.
As IAB points out, there are drawbacks to this plan, even though the loyal readers/subscribers build a secure revenue source for them … especially with the contribution plan. That's because payment systems that are optional, such as donations, reduce the number of people in the pool of visitors, which negatively affects the revenue stream.
Sixth - Reward the Reader
Publishers and advertisers can pay visitors when they interact with the ads, which includes sponsored data and credits for mobile games. However, using an incentive-based ad system comes with a risk, as they are susceptible to fraud. In addition, it requires that the users provide personal data, which can scare them away.
Seventh - Reconfigure the Ads
As media companies keep changing the code for ads to work around the ad blockers, it can become a game of cat and mouse for publishers. It may give the publisher control of ad inventory, as well as testing different types of ads, but it also requires publishers to work with (or at least, acknowledge) the ad blockers. In addition, IAB points out that consumers may get frustrated by continually seeing different types of ads, which creates a risk of attracting the attention of the anti-advertising organizations.
In Conclusion:
Genius Monkey sees the positive aspects of ad blockers, but then again, we always tend to look at the glass as "half-full." Here are a few positive aspects of ad-blocking software:
Publishers are tidying things up … a much-needed "spring cleaning," if you will.
Publishers are fighting back by letting the users know that if they expect free content, they're going to have to temporarily disable the ad blockers … and many are doing just that.
Genius Monkey believes that most users just want the control, but have no issues when it comes to disabling ad blockers in order to get free content (once they have established that it is a trusted site).
Advertising is not going anywhere … it's here to stay, and the beautiful part about it is that by using programmatic digital, Genius Monkey can now specifically target those individuals who will benefit the most from actually seeing the ads.